St Helena's air service with Airlink provides fortnightly flights between Johannesburg and St Helena and a monthly inter-Island service with Ascension Island. Additional inter-Island flights have been included during periods of peak demand.
Important Notice: South Africa accepting only QR coded proof of vaccinations.
On Friday, 27 May 2022 South Africa Government announced that with immediate effect, South Africa will only accept verifiable QR codes, either paper based or electronic, as proof of COVID-19 vaccinations for entry to South Africa. St Helena Government have approached the South African authorities for an exemption for travellers who have received their vaccinations on St Helena (and Ascension Island) as both Islands cannot provide vaccination certificates with QR codes. However at this time there is no guarantee that an exemption will be given. St Helena Government therefore recommends that persons who received their COVID-19 vaccinations on St Helena and are currently abroad but planning to travel to St Helena, to take a pre-departure COVID-19 test (as a precautionary measure) prior to travelling to South Africa.
The Airlink flight schedule between March 2022 and January 2023 can be seen below: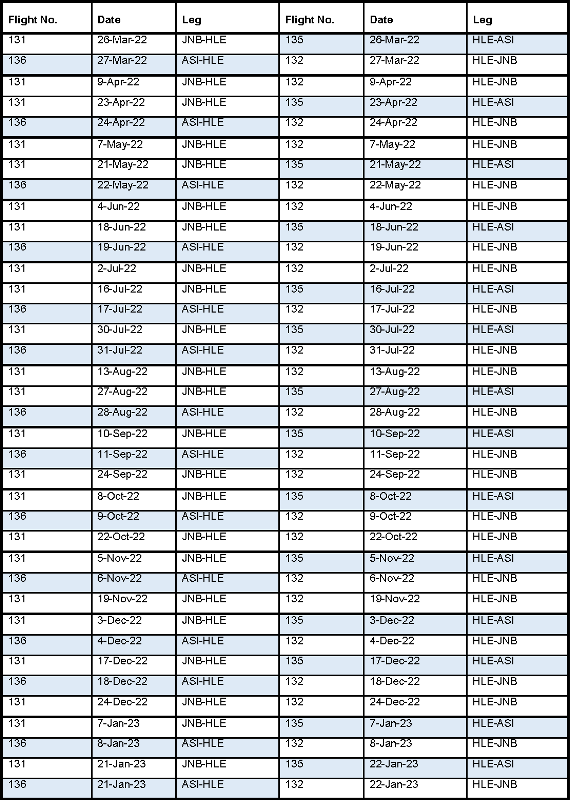 Travel Corridor between Ascension Island and St Helena
A travel corridor exists between St Helena and Ascension as both are COVID-19 free i.e. there are no cases of COVID-19 within the community. For further information on the travel corridor and the requirements for this, click here for full press release.