The Environment, Natural Resources & Planning Directorate's (ENRP's) functions are centered around the management of natural resources, environmental management and protection and land planning and building control.
Vision and Structure
ENRP's overall vision is:
St Helena's natural environment is managed in a sustainable manner and is providing for the needs of the Island. Our food production is increasing and the development of our natural and built environment remains central to a vibrant economy.
The Directorate comprises three Divisions and 12 Sections as shown in the structure below, supported by 84 staff and a recurrent budget of £1,867,000.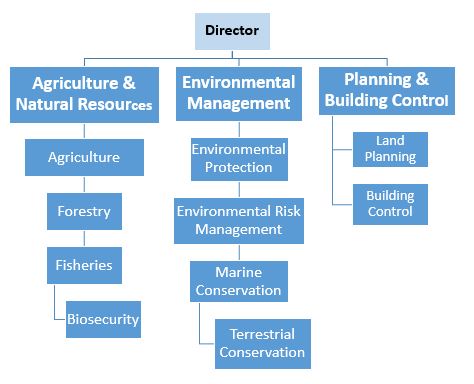 Strategic Priorities
ENRP Portfolio Strategy & Delivery Plan (2021-2024)
The Directorate's six strategic priorities are as follows:
Priority 1 – Protect the natural environment by conserving biodiversity, preventing, minimising or mitigating against any negative activity and or impact, to conserve and enhance the Island's natural capital
Priority 2 – Improve our capacity to manage our natural resources sustainably to increase food production and forestry services and products
Priority 3 – Review current policies and regulations with a view to streamlining the planning process to facilitate sustainable development & investment to support economic growth
Priority 4 – Reduce the economic and environmental impact of invasive species
Priority 5 – Safeguard St Helena through continual improvement of St Helena's biosecurity capacity
Priority 6 – Increase our capacity to safeguard natural habitats and save critically endangered species.