The St Helena Fire & Rescue Service is part of the overall Safety Security and Home Affairs Portfolio and we are proud of the level of service we deliver, however we continue to seek new ways of improving.
Led by a Brigade Manager who is the Chief Fire Officer, the team consists of two Watch Managers, an Senior Command, Strategy & Risk Support Officer and ten full-time Fire Fighters, who together manage and respond to all fire and land based incidents, rope rescues, and road traffic incidents across the Island.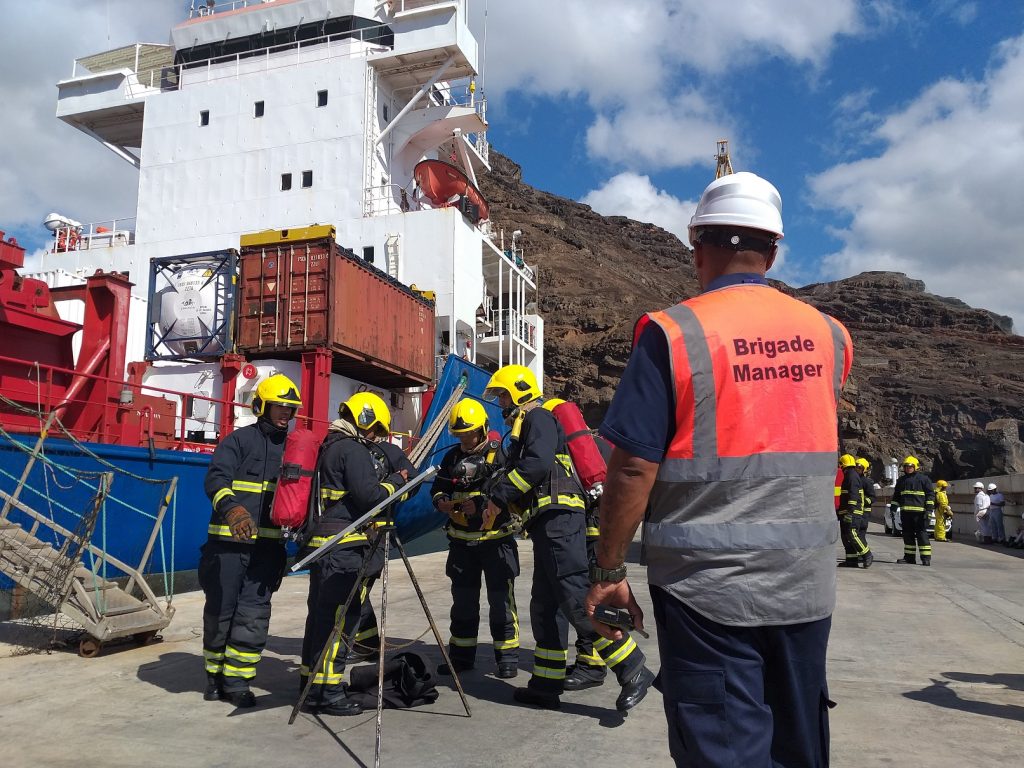 The responsibilities of the service are much broader than just emergency response and our service works closely with other agencies and organisations to collectively deliver local initiatives and policies. A number of proactive public safety awareness campaigns are delivered to help the community stay safe while trying to reduce the need for a response in the first instance.
The demands on the St Helena Fire & Rescue Service are ever increasing with one of our main focuses being on air access. Our objectives are designed to support these activities and our strategies and resources will have the capability to assist the Airport Rescue & Fire Fighting Service (ARFFS). Ongoing training ensures that we can work effectively together in the future. On flight days we provide mutual aid to ARFFS and are available to respond to Airport related emergencies, whilst still providing an efficient service coverage for the Island.
Contact Numbers
Emergency: 999
Office: 23344 / 23322
About SHFRS
We provide an emergency response and community safety information service for the people of St Helena and those who visit the Island.
The Chief Fire Officer is Mr. Alan Thomas.
In support of the Island's national goals, of which our mission is:
To secure a safer community on St Helena by reducing the incidence of fire through partnerships, education, advice and enforcement
To sustain a highly effective, efficient and economic fire and rescue service, with best value at its heart.
Charges for our service.
No charge is made for attendance at fires and emergencies with genuine humanitarian risk, but charges are made for certain non-emergency, special services. These rates are subject to annual review.
Service to the community
We value service to the community by:
focusing on our customers' needs
working with all groups to reduce risks
treating everyone fairly and with respect
being accountable to those we serve
striving for excellence in all we do
Diversity
We value diversity in the service and community by:
treating everyone with dignity and respect
providing varying solutions for different needs and expectations
promoting equality of opportunity in employment and progression within the service
challenging prejudice and discrimination
Valuing each other
We value each other by practising and promoting:
fairness and respect
recognition of merit
honesty, integrity and mutual trust
personal development
'can-do' attitude, co-operative and inclusive working
one-team approach
Improvement
We value improvement at all levels of the service by:
taking responsibility for our performance
promoting and supporting innovation
embedding efficiency and effectiveness in all we do
being open-minded
responding positively to feedback
learning from others
consulting others
Fire safety advice
Children
Advice for businesses
Fire safety advice for businesses
The St Helena Fire and Rescue Service is committed to enforcing the fire safety legislation that we are responsible for in a fair, transparent and proportional manner. Wherever possible we aim to provide assistance and guidance to achieve compliance with the legislation and only resort to formal action or prosecution in the most serious cases or where repeated failures have occurred.
For fire safety advice specific to your business please contact us.
How to comply with the law
The responsibility for ensuring compliance with legislation generally lies with the responsible person, usually the employer or in some case the owner
The responsible person is required to carry out a Fire Risk Assessment to comply with the current Fire Safety Legislation
For further information on completing your Fire Risk Assessment contact us direct.
Other Safety Advice
Related Documents