Location
St Helena is one of the remotest islands on Earth.
The subtropical British Overseas Territory sits in the midst of the South Atlantic Ocean, 1,200 miles from Africa and 1,800 miles from South America.
The only other near landmass is Ascension Island, which is 807 miles to the northwest.
St Helena is situated at 15° 56′ South and 5° 45′ West.
Size & Population
St Helena is just 47sq. miles.
This is 1/3 the size of the Isle of Wight, and the same size as Disney World Orlando.
This is also the same size as San Francisco, California (USA) – yet the island has just 0.5% of San Francisco's population.
With a tight-knit, extremely low-crime community of just 4,439 (2021 Census) you can freely explore the island's natural and built attractions in peace and tranquility.
Climate
As a subtropical island, St Helena's climate is temperate year-round (15-28°C).
While the four seasons are not recognised on St Helena, the 'cooler months' are generally June to September and the 'hotter months' are December to March.
St Helena is free from extreme weather events, with even thunderstorms only occurring perhaps once a decade.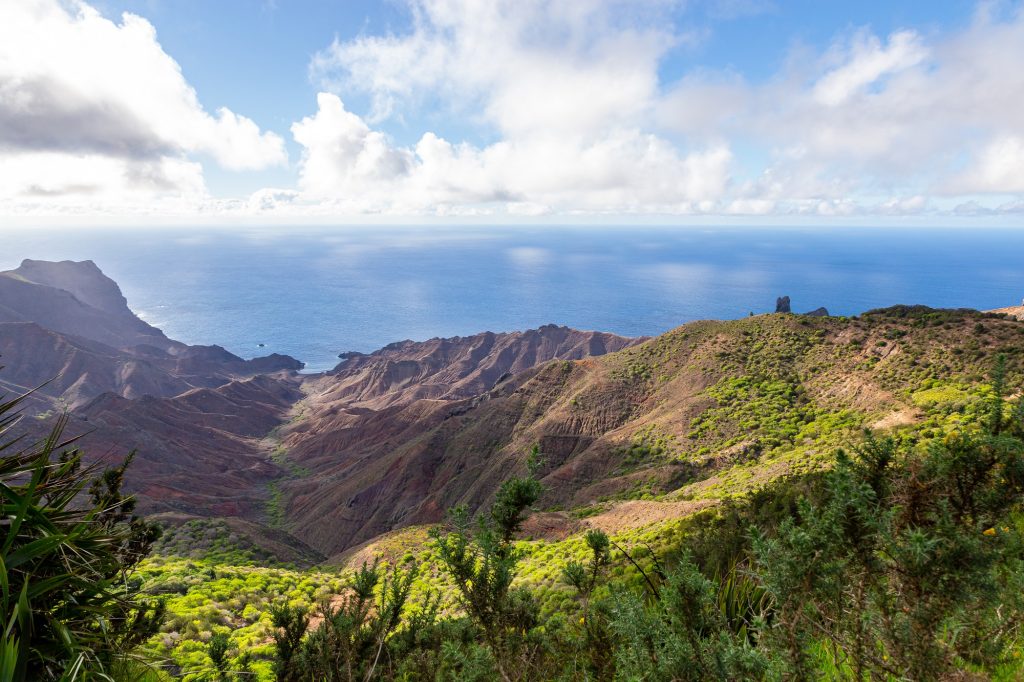 However the wealth of microclimates created by St Helena's mountainous terrain, coupled with the Southeast Trade Winds, mean St Helena's weather can shift minute-to-minute and district-to-district, cool raindrops shifting into strong sunshine.
Accessibility
Until 2017, St Helena did not have an airport and was only accessible by sea. Reaching the island meant a five-day ship voyage from Cape Town, South Africa.
However, since October 2017, the island's first and only airport has enabled passengers to reach the island in just a six-hour flight.
Just one commercial service operates to St Helena Airport (HLE): The weekly Airlink flights connect the island with Johannesburg's OR Tambo International Airport (JNB). A monthly flight also operates to and from Ascension Island.
Yachts and cruise ships also frequent the island, mainly from October to April, due to St Helena's ideal mid-Atlantic location.
The new interim cargo shipping service, the MV Maria da Paz is operating to St Helena. The full route will take approximately 21 days to complete, and will commence in Luanda. The route will therefore operate from Luanda to Walvis Bay, Walvis Bay to St Helena, and then St Helena to Luanda.
Environment
St Helena's environment is of global significance.
The island's isolation between its emergence 12 million years ago and its settlement in 1659, gifted it with spectacularly well-preserved scenery and biodiversity.
More than 500 species of plants and animals are found on St Helena Island that are found nowhere else on Earth – this means the tiny, remote island is home to a massive 1/3 of all the unique species found within the UK and its Overseas Territories.
Additionally, the island boasts the last natural cloud forest on British soil.
Plus, the island is surrounded by a Category VI Marine Protected Area nearly the size of France.
St Helena's environment is also visually stunning. The amount of microclimates and diversity of landscapes surprises even the most well-travelled. It's hard to believe so many microclimates and varieties of landscape exist within one tiny volcanic outpost. Some walks feature 'paint pallets' of rolling, multi-coloured hills; some feature geologically stunning, barren cliff faces falling drastically into the sea; some feature Jurassic Park-like jungles of ferns and eucalyptus.
The 'Post Box Walks' are 21 walks each ending with a 'post box' containing a signature book and stamp. The difficulty of each walk varies, some only for the most experienced walkers and others family-friendly. The distance of the walks is 1.5km-12km, and time taken is generally about one hour to about half or a full day.
The lack of pollution existent in St Helena means the island enjoys great air quality.
The near-total lack of light pollution (protected in legislation), coupled with St Helena's location near to the equator, enable world-renowned stargazing.
For commitment to environmental protection and promotion, St Helena was recognised by World Commerce Review as the Best Eco-Location and Sustainable Tourism Destination 2022.
Culture
The transient nature of the mid-Atlantic island led to a true melting pot of people (descended from Europeans, Chinese, Portuguese, Africans and more); however the islanders, known as 'Saints', mainly identify as British.
The small community is extremely close-knit – everyone knows everyone, stops to say hello to each other on the streets, and the driver of each passing car waves to each other on the roads. Saints are also renowned for being friendly and welcoming to visitors.
Serious crime is a rarity, and the island is free from war and political unrest.
Cultural values include a deep connection to the natural environment (both land and ocean), a sense of resilience and resourcefulness, strong family, community and charitable values, and a great pride in 'being Saint'.
St Helena observes a mixture of English and local law; is English-speaking (though often with a strong local dialect); and the St Helena Pound is pegged to the Pound Sterling.
History
The island was discovered by the Portuguese in 1502, but wasn't settled until the British arrived to claim the island in 1659. The island has remained British ever since (except when briefly overtaken by the Dutch in 1665).
The East India Company (EIC) was charted for administration of the island throughout much of St Helena's history – with EIC remnants publically accessible today, heavily centred in the capital of Jamestown, a town of preserved EIC buildings.
Until the opening of the Suez Canal, the island was a vital mid-Atlantic shipping port – this made it a place of transience, visited by a great diversity of peoples and nationalities.
The island's utter isolation also made it an ideal place of exile.
Among the most notable exiles were King Dinizulu, 6,000 Boer Prisoners of War, 25 Zulu Chiefs, 3 Bahraini nationalists and French Emperor Napoleon Bonaparte (who died on the island).
St Helena was colonised by the English in 1659, and at that time the use of slaves was commonplace. Slaves were first brought mostly from East Africa or Madagascar and in 1818, Governor Lowe initiated the first steps in slave emancipation. Between 1840 and the collapse of the Atlantic slave trade in the 1860s, St Helena served as a major trial venue and receiving depot for slave ships captured by the Royal Navy's West Africa Squadron. It has been estimated that over 25,000 "Liberated Africans" lived on the island. Slaves, 'liberated Africans' and Chinese indentured labourers also left significant impacts on the island, as did the Falklands War, in which many islanders were deployed.
Eight shipwrecks are also accessible for snorkelers and divers in St Helena's waters, with legacies ranging from an RFA tanker sunk by a German U-boat during WWII, to a fishing vessel sunk in order to create an artificial reef.
St Helena also boasts the world's oldest known living land animal (and oldest ever chelonian), Jonathan the Tortoise, a Seychelles giant tortoise who arrived as a gift to St Helena in the mid-1800s and who celebrated his 190th birthday in 2022.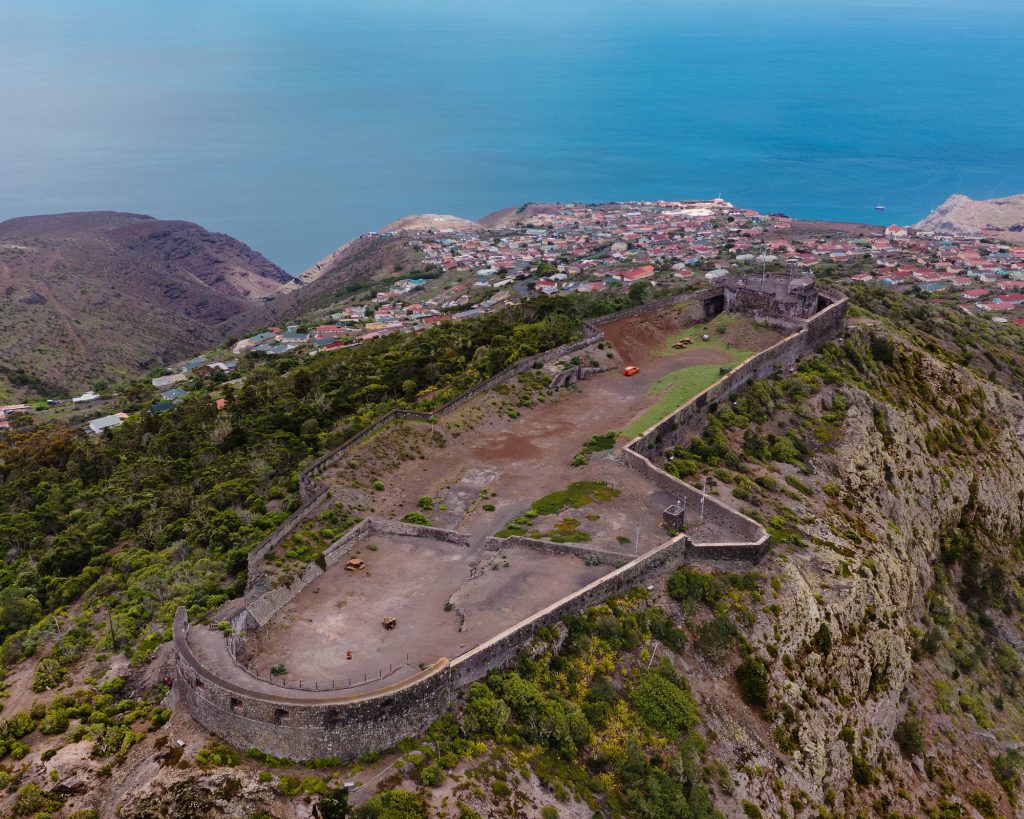 Today, St Helena's rich diversity of heritage is accessible at every turn. You can stroll through centuries-old fortifications, visit the world's most significant physical remaining trace of the transatlantic slave trade, explore historic buildings and architecture, and travel in Napoleon's footsteps. Plus, you can visit the Museum of St Helena for an all-encompassing experience.
National Symbols
Bird: The Wirebird is St Helena's last endemic land bird. The global population of 602 Wirebirds (2022 Census) is found only on St Helena.
Flower: The St Helena Ebony. Until 1980 the ebony was thought to be extinct, until local conservationists Charlie and George Benjamin rediscovered and took steps to cultivate this once-lost endemic plant.
Flag: Bearing a Union Jack, a blue background, and the shield featured in St Helena's coat of arms, the official St Helena flag is available for download here.
Coat of arms: Authorised in 1984, the coat of arms features a shield that bears images of the national bird (Wirebird), the coast of St Helena, and a sailing ship. The motto of the arms is 'Loyal and unshakable'.
---