HMP Jamestown is a Category B Local Prison holding adult male and female prisoners and young offenders, both convicted and those who have been remanded by the Courts. The Prison building currently houses the Police Custody Suite.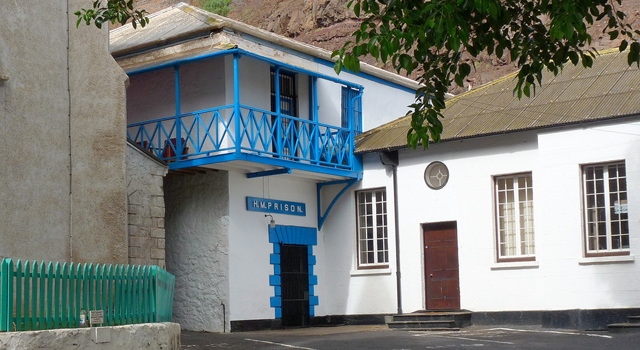 The prison was built in 1826 and is still in use today, the building remains largely unaltered despite being declared unsuitable for further use in the 1850s. Governor Gore Brown built a replacement at Rupert's in 1853. This was a model prison constructed mainly of timber and sent out from England in kit form. Construction was completed towards the end of 1854 and the prisoners were re-located. But the Rupert's Prison was short lived – in 1867 a military prisoner who was confined there burnt it to the ground, and the prisoners had to be moved back to the old prison. Over 150 years later the nearly 200-year-old prison remains in use.
A proposed site for a new prison has been identified at the Goat Pen in the Bottom Woods area of the Island. The Prison Project Board is working to secure the development of the New Prison.
Current Prison information
Address:
Jamestown,
St Helena,
STHL 1ZZ
Telephone: +290 22626
Prison Manager: Heidi Murray
Deputy Prison Manager: Linda Fuller
Accommodation: Cellular and Dormitory
Capacity: 21 CNA
22 Operational Capacity (Currently Under Review)
Regime: HMP Jamestown's regime includes full time employment on the Prison Farm, Community Based projects, Workshop, Kitchen, Catering Courses, Education, and Release on Temporary Licence for those prisoners who are approaching their release dates, to help resettle them back into the Community. The Prison also offers resettlement and behaviour programmes via the Probation Services and the Health Board.
Visits: HMP Jamestown is a Georgian building which has had little structural work done to it since 1826 when it was built. As a result of the design of the building, visits take place on the 1st floor. There is currently no disabled access so visitors will need to be capable of ascending and descending a flight of stairs. A handrail is available to assist visitors who have mobility problems.
Visits are booked via telephone at least 48 hours before the visit is due to take place. Privilege visits are booked by the prisoners directly.
Children under the age of 18 must be accompanied by an adult and must have the written consent of the parent or legal guardian. Each prisoner is allowed to have the following number of visitors per session: three adults and any number of children.
Visiting Times
Statutory Visits (Saturdays Only)
Session 1 – 09:30 to 10:30
Session 2 – 10:45 to 11:45
Session 3 – 13:00 to 14:00
Session 4 – 14:15 to 15:15
Privilege (Monday – Friday, Sundays)
Monday to Friday

12:30 to 13:30
13:30 to 14:30
14:30 to 15:30

Sunday
Note: There are no visits on Christmas Day or Good Friday. There may also be some restrictions around public holidays. Contact the prison for further information.
Email a Prisoner
HM Prison St Helena has introduced a new 'Email a Prisoner' service. The aim of the new service is to allow prisoners to stay connected with their families and friends, both on-Island and abroad, without having to pay phone call costs which can be high, especially if calling internationally. It is a method that has been introduced in some UK prisons.
HM Prison has set up an email account purely for this service, which is: prisoneremailaccount@sainthelena.gov.sh. The families and friends of a serving prisoner can send them an email to this address and can also attach pictures if they wish to do so. For safety, and the protection of the public, each email is read by the prisoner's personal officer to ensure that there are no breaches of security. The email content is then printed and passed on to the prisoner. The prisoner can then respond in the same way.
Prisoner's Money
Prisoners are allowed to have money paid into a prison account, however, NO cash is allowed in the prison, nor can it be accepted into the prison. Any cash should be paid in at the Customer Service Centre at the Post Office into account number:
17 – 1702 – 0901 – 90134
Note: The slip must be clearly marked with the prisoner's full name.
Recent Documents