HMP Jamestown is the only prison on St Helena Island and is designated a Category B Local Prison, holding adult male and female prisoners and young offenders, both convicted and those who have been remanded by the Courts.
HM Prison forms part of the Islands Safety, Security and Home Affairs (SS&HA) Portfolio structure, working towards the #altogether safer agenda.
Our Statement of Purpose: His Majesty's Prison Jamestown serves the public by keeping in custody those committed by the courts. Our duty is to look after them with humanity and help them lead law abiding and useful lives in custody and after release.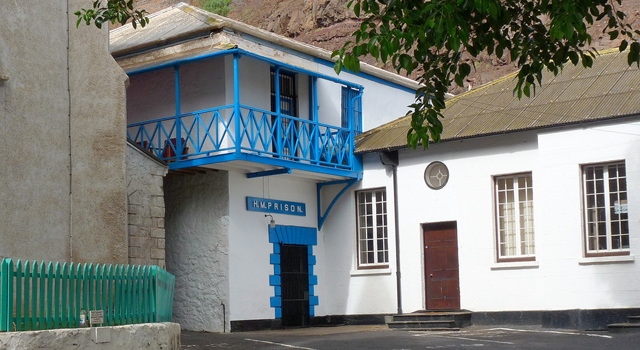 The prison was built in 1826 and is still in use today, the building remains largely unaltered despite being declared unsuitable for further use in the 1850s. Governor Gore Brown built a replacement at Rupert's in 1853. This was a model prison constructed mainly of timber and sent out from England in kit form. Construction was completed towards the end of 1854 and the prisoners were re-located. But the Rupert's Prison was short lived – in 1867 a military prisoner who was confined there burnt it to the ground, and the prisoners had to be moved back to the old prison. Over 150 years later the nearly 200-year-old prison remains in use.
A proposed site for a new prison has been identified at the Goat Pen in the Bottom Woods area of the Island. The Prison Project Board is working to secure the development of the New Prison.
Current Prison information
Address:
HMP Jamestown,
St Helena Island,
South Atlantic Ocean,
STHL 1ZZ
Front Gate / Reception Tel: +290 25995
Saint Helena Probation Service Tel: +290 22722
Superintendent of Prisons: Jay Kendall Jay.Kendall@sainthelena.gov.sh Deputy Superintendent: Linda Fuller Linda.Fuller@sainthelena.gov.sh
Accommodation: Cellular and Dormitory
Certified Normal Accommodation (CNA) 22 Prisoners
Operational Capacity (Op Cap) 28
Regime: HMP Jamestown's regime includes full time employment on the Prison Farm, Community / Voluntary Based projects, Workshop, Kitchen, Education and Release on Temporary Licence (RoTL) for those prisoners who are approaching their release dates, to help resettle them back into the Community. The Prison also offers some resettlement and behaviour programmes via the Probation Services and the Health Directorate. Prisoners that demonstrate good behaviour and engagement are able to progress through the prison incentive levels meaning more privileges. Prisoners that do not display behaviours expected may have privileges withdrawn.
Key Performance Targets:
Zero escapes
Under 5 Assaults
Increase Purposeful Activity Hours
Priorities:
Maintaining Safety
Maintaining Security
Improving Decency
Effective Resettlement of prisoners
New Prison Project
Reducing Reoffending and the Resettlement Pathways:
On arrival to HMP Jamestown prisoners take part in a familiarisation induction and are allocated a Personal Officer and Probation Officer who will work with them to help them address their offending behaviour and improve their chances of resettlement. Prisoners are risk assessed and work commences to support them and address any issues they may have in the following areas which are critical to successful resettlement:
Accommodation
Education, Training & Employment
Heath
Attitudes, Thinking & Behaviour
Finance, Debt & Benefits
Drugs & Alcohol
Families and Signification Others
Personal Officers work with their prisoners to support, motivate and where necessary challenge them, setting goals and objectives. Progress is monitored via a monthly Sentence Management Board which is multi-disciplinary.
Social / Legal Visits: HMP Jamestown is a Georgian building which has had little structural work done to it since 1826 when it was built. As a result of the design of the building, visits take place on the 1st floor. There is currently no disabled access so visitors will need to be capable of ascending and descending a flight of stairs. A handrail is available to assist visitors who have mobility problems.
Visits are booked via telephone at least 48 hours before the visit is due to take place. Privilege visits are booked by the prisoners directly.
Children under the age of 18 must be accompanied by an adult and must have the written consent of the parent or legal guardian. Each prisoner is allowed to have the following number of visitors per session: three adults and any number of children.
Visiting Times
Statutory Visits (Saturdays Only)
Session 1 – 09:30 to 10:30
Session 2 – 10:45 to 11:45
Session 3 – 13:00 to 14:00
Session 4 – 14:15 to 15:15
Privilege (Monday – Friday, Sundays)
Monday to Friday

12:30 to 13:30
13:30 to 14:30
14:30 to 15:30

Sunday

10:00 to 11:00
11:00 to 12:30 this is an extended visit and subject to availability
Note: There are usually no visits on Bank/Public Holidays. Contact the prison for further information.
Please be aware that it is an offence to bring unauthorised articles into His Majesty's Prison therefore we advise visitors bring as little as possible with them and use the lockers at the entrance of the prison to secure personal items.
Skype: Prisoners may apply to use Skype to maintain family ties or take part in legal / professional calls.
E-mail a Prisoner: HMP Jamestown has an 'Email a Prisoner' service. The aim of the new service is to allow prisoners to stay connected with their families and friends, both on-Island and abroad, without having to pay phone call costs which can be high, especially if calling internationally. It is a method that has been introduced in some UK prisons. The email account is: prisoneremailaccount@sainthelena.gov.sh. The families and friends of a serving prisoner can send them an email to this address and can also attach pictures if they wish to do so. For safety, and the protection of the public, each email is read by the prisoner's personal officer to ensure that there are no breaches of security. The email content is then printed and passed on to the prisoner. The prisoner can then respond in the same way.
Prisoner's Money: Prisoners are allowed to have money paid into a prison account, however, NO cash is allowed in the prison, nor can it be accepted into the prison. Any cash should be paid in at the Customer Service Centre at the Post Office into account number: 17 – 1702 – 0901 – 90134 Note: The slip must be clearly marked with the prisoner's full name.
Prisoner Welfare: An independent board of visitors appointed by the Governor attend the prison on a regular basis to monitor the welfare, conditions and treatment of prisoners. The working relationship between the board and the prison is positive with any matters being raised, being addressed swiftly.
Voluntary Work: HMP Jamestown actively seek volunteers to work with our prisoners to help them improve their Maths, English and other functional and vocational skills. If you are interested, please contact the Superintendent of Prisons.
Employing Prisoners on or nearing release: If you would be interested in employing a prisoner on ROTL that may possibly lead to employment on release, please contact the prison.
The Team structure
Please see below for HM Prison Service Saint Helena rank structure and insignia to help identify the team:
Prison Officer
Senior Prison Officer
Principal Prison Officer
Deputy Superintendent
Superintendent of Prisons
Interested in a career with HMP? Get in touch!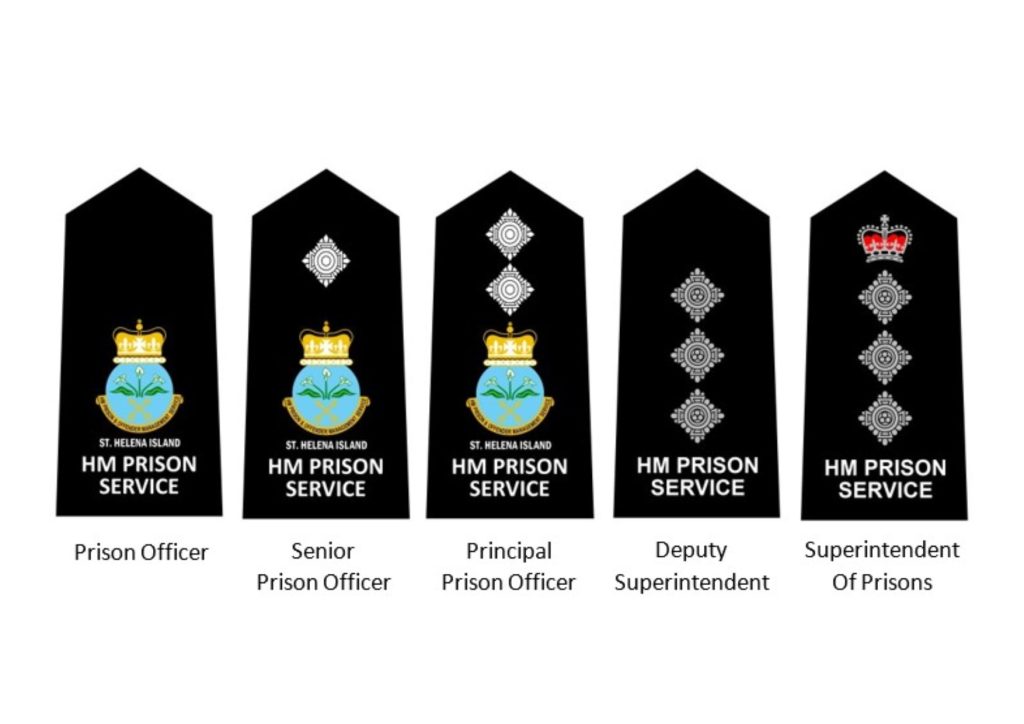 HMP News:

Long Service and Good Conduct Medal and Clasp Presentation
Prisoners in HMP Create artwork for Christmas Festivities
HMP: Doing Time – the right way
HM Prison Meets Fire Safety Requirements