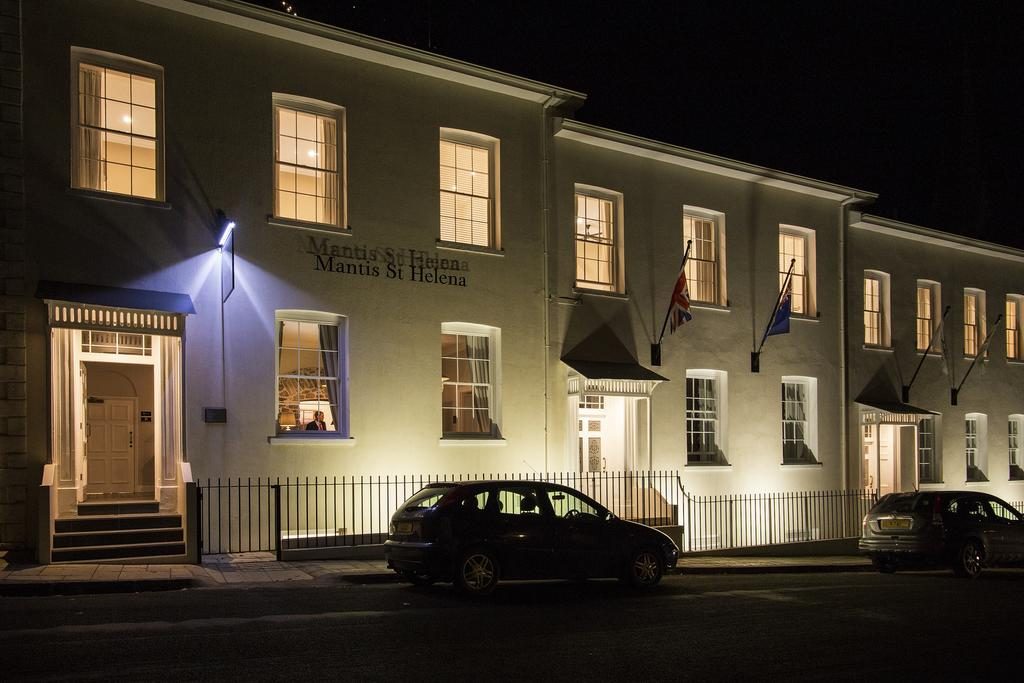 Enterprise St Helena (ESH) is the lead body responsible for promoting and enabling private sector development on the Island. Established as a statutory body at arm's length from St Helena Government, Enterprise St Helena (ESH) is responsible for tourism and the economic development of the Island. ESH is focused on promoting the growth of the economy of St Helena, through the development of existing businesses, and the promotion of the Island to new investors and developers.
Enterprise St Helena's website can be found at: investinsthelena.com
The Investment Policy and Investment Strategy
St Helena is open for business, and with investor friendly policies in place, it's now easy to invest in the Island. The current development friendly investment policy was developed with the intention of opening the Island's economy to investment and increased levels of tourism. Its aims are:
Making the economy accessible to all potential investors by being an attractive destination to do business and encouraging a diversity of investors;
Ensuring maximum benefit from development for the Island's economy and people;
Setting parameters for development to safeguard what is important for the people of St Helena;
Assisting the locally-based private sector to compete effectively and efficiently in an open economy.
---
In order to foster business growth for both resident and non-resident investors, this Investment Policy sets out five principles which should shape all government policy on St Helena. The principles are:
Make St Helena a desirable and competitive destination to do business by removing barriers to investment
Encourage growth through import substitution, export promotion and domestic production
Support an economy which is accessible to all potential investors and promote investments across the economy
Support the locally based private sector to compete in an open economy but, where possible, avoid being overly protective
Promote fair, consistent and transparent decision making.
The Investment Strategy outlines how this will be done, and in particular outlines the tax, land and immigration reforms to assist Investment.
---
The Investment Prospectus is designed to flag particular opportunities for investors in St Helena and is available at: investinsthelena.com
You may also wish to visit the immigration web pages.
As a remote oceanic Island St Helena is very vulnerable to the introduction of new pests, weeds and diseases which can adversely affect agricultural production, the natural environment, and also human and animal health. There are strict controls on bringing certain items in, such as honey, please see the Biosecurity Service page for further information. Please help us protect our beautiful Island by promoting good biosecurity.
The Sustainable Economic Development Plan
St Helena Government endorsed the Sustainable Economic Development Plan (SEDP) 2018-2028, which focused on addressing St Helena's trade imbalance and improving quality of life. The Goals of the SEDP are to:
Increase Exports
Substitute Imports
Attract Visitors and Increase Tourism
Mitigate impacts of inflation on the lowest income groups
Improve Land Productivity
Sustain and improve our Natural Capital
Improve Infrastructure
Develop, Maintain and Attract a Skilled Workforce
Develop the Digital Economy
Reduce Leakage of Income
The SEDP outlined St Helena's opportunities and comparative advantages. These are St Helena's natural resources and geography, use of the English language, use of the Great British Pound alongside the St Helena Pound, relatively inexpensive labour and property costs and low crime and corruption.
Determination of St Helena's comparative advantages and disadvantages led to the exploration of sectors which, when developed, could assist St Helena to improve its trade imbalance. Export sectors include: Tourism; Fisheries; Coffee; Satellite Ground Stations; Work from Home Jobs; Academia, Research and Conferences; Liquor, Wines and Beers; Ship Registry and Sailing Qualifications; Traditional Products; Honey and Honey Bees; and the Film Industry. Import substitution sectors include: Agriculture; Timber; Bricks, Blocks, Minerals and Rocks and Bottled Water.
Register a Company
You may wish to start a company to do business on St Helena. St Helena's company registry service can be accessed online.
To set up a company please visit: cr.gov.sh
Tax, Grants and Loans
In 2019, a set of tax reforms were put in place to assist businesses.
To promote exports and encourage activities in SEDP sectors where supply is not already saturated, St Helena Government has put in place a Corporation Tax Reduction from 25% to 15% applied to the activities within a business which produce goods and services which are directly exported by the business, i.e. bought and used abroad and applied to activities which produce physical goods deemed as key import substitution goods. The import substitution activities are fishing and fish processing; cultivation of honey; growing and roasting of local coffee; farming and butchering of meat; farming of vegetables, legumes, nuts and fruit; secondary processing of locally grown food; distilling/brewing of liquor, wine or beer; production of traditional craftwork, jewellery, upholstery and clothes. Because Corporation Tax rates do not apply to self-employed persons, St Helena Government also reduced Self-Employment Tax rates by 5% for the activities as outlined above. The Corporation Tax incentive is higher in magnitude than the Self-Employment Tax incentive to encourage incorporation of businesses.
The incentive will run for a period of five years from 1 April 2019.
To benefit from these reductions and deductions, the business/self-employed person will be able to declare income and costs relating to export and import substitution activities as part of their self-assessment tax return, and the lower tax rate will apply accordingly. Businesses should structure their accounts to track costs and revenues pertaining to tax reduced activities during the year in preparation for their tax return submissions.
More information is available within the Income Tax Ordinance which can be found on our page of laws for St Helena.
---
An Approved Investment Scheme was also established which gives investors access to Customs Duty incentives.
An Approved Investment will be either a new enterprise or the expansion of an existing enterprise; will have a beneficial effect on the economy of St Helena; and will be adequately financed. An investment is particularly encouraged if it meets the following objectives:
Is sustainable; economically, environmentally and socially
Reduces the Island's dependence on imported goods, increases exports, increases and retains money on St Helena
Employs local people, where appropriately skilled staff are available
Adds to the range of products and services on offer to residents and visitors
Offers value for money to SHG and ESH where grant funding and/or tax incentives are given.
In understanding whether the investor will contribute to these factors, the answers to a number of questions will be sought in conjunction with Enterprise St Helena, and inputted into an Investor Matrix. This will provide the basis to estimate the effect that an investment will have on St Helena's economy and provide evidence to support an application for Approved Investment Status.
More information is available within the Customs and Excise (Approved Investment) Regulations which can be found within the Customs and Excise Ordinance on our page of laws for St Helena. To start the application process contact Enterprise St Helena via: info@esh.co.sh.
Enterprise St Helena provides financial assistance in terms of grants and loans for St Helenian investors.
ESH administers the Economic Development Fund (EDF) with the objective to support business development on St Helena, as well as the development of entrepreneurial skills on the Island which is also supported by the Department of International Development (DFID). Grants are available across all sectors of the economy for local entrepreneurs, and existing business that are looking to develop profitable areas of their business.
Development Project Grants can assist new or existing businesses with business plan preparation, planning application requirements, complex proposals (e.g. tenders) for medium to large contracts, marketing advice including packaging and branding, business financial and administration systems including payroll and HR policies, website design and implementation, equipment, fixtures and fittings, technology hardware and software. Also where projects demonstrate innovation (for St Helena) and/or are projects that promote reduced levels of carbon consumption and promote environmental sustainability. ESH will grant fund at 75% of the total cost of the project, up to a maximum of £7,500 (with exception of Hire for Reward items which is 25% of the total cost of the hire items only up to a maximum of £7,500).
Skills Development Grants are available to fund skills development programmes, geared for business owners and employees looking to expand their personal or business offering. This grant is also available to assist with the cost of training courses, either offered locally or overseas. ESH will grant fund at 75% of total cost of course, with the minimum amount of £500.00 up to a maximum of £5,000.00.
The Youth Start-Up Loan is targeted at 16 to 26 year olds interested in starting up a business; it is intended to be as flexible as possible in meeting the needs of the young entrepreneur. This loan is up to £2,000 at an interest rate of 1%, a subsequent Youth Loan up to £3,000 at an interest rate of 3% is also available on completion on the first loan facility.
ESH can also facilitate a business loan however, the first place of call for any local businesses wishing to take out a loan is the Bank of St Helena. If the approach to the bank is not successful on the basis of risk, and if there is still a robust business case, ESH may be able to assist, providing that an investor can demonstrate that they do not have access to any alternative source of finance. The minimum loan amount is £1,000.
For more information see: investinsthelena.com
---
Case Study: St Helena Distillery
The St Helena Distillery, owned and run by Paul Hickling, has been in operation since 2006 and relocated from the cellar of Donny's Bar on the Seafront to Paul's residence at Alarm Forest.
The Distillery is housed in a purpose-built two-storey building where the process for making spirits is much easier. There is also space for a large storage room and an area for siting 10 fermenting tanks, half of which are now in operation. Alcohol processing takes place on the ground floor, with the top floor of the building used for the fermentation of the wines and spirits. Starting off with the production of the well-known Tungi spirit, Paul has expanded his production line to include White Lion Spiced Rum, Midnight Mist Coffee Liqueur, Lemon Valley Lemon Liqueur and Jamestown Gin – what Paul describes as 'something for everyone'.
He also produces mini versions of his products, which are sold as a collectors pack. Paul has also made a 1000 bottle limited edition Brandy for the bicentennial commemoration of Napoleon's exile (1815) in 2015 and various Wines, made possible by importing fresh grape juice from South African vineyards. In future, if Paul secures extra help, he would like to go into making Brandy full time and also possibly a Banana Liqueur made exclusively from local bananas. Currently, Paul's customers are mostly locally based and his products can be found in St Helena shops and pubs. In a month, Paul turns out between 250 and 300 bottles, easily recognisable in shops, including a bottle that reflects the steps of Jacob's Ladder. Paul explains that it is difficult to export the spirits and is also very expensive. Paul said: "Since the start up in 2006, demand has increased and has got better now the airport is completed – but of course everything takes time. I am now on the tourist trail as well which is an added advantage. Feedback from customers overseas reports that Tungi is the most popular drink – winning the Silver and Commended Medal in 2007 and 2009 respectively in a UK international spirit competition.
"People respect it as an exceptionally good drink as it is very smooth. The White Lion Spiced Rum did not take off as well as expected but is now growing fast. The Midnight Mist is also going very well but the fastest growing of all is the Jamestown Gin – people love it!
"The process involves first fermenting the prickly pear (tungi) fruit with a small amount of sugar and yeast, which is then made into a mash or a wash. This then ferments for two weeks, during which time the alcohol is produced. This then goes into the Still to produce the spirit, which is then watered down as it is very strong. When it is down to the volume and strength it should be, it is bottled and packaged to go. From picking the fruit to bottling, the process takes approximately three weeks.