---
Why live, work, invest and visit St Helena?
St Helena is on a journey to become a globally-connected, green and blue-Island destination with a vibrant tourism and digital-driven economy. As a developing Island, St Helena offers a unique opportunity for you to invest now.
Establish and grow your business on the sub-tropical Island of St Helena which is one of the most stunning and breath-taking places on earth, featuring unique flora and fauna and undeveloped abundant landscapes. Investing in this environment offers one an exclusive opportunity to take advantage of the rapid growth and development currently taking place.
Our English language and use of Great British Pounds are no barrier to invest and our geographic location is ideal for the enriched market that you need – it's the perfect environment for your business to flourish. With low crime and corruption, our Island has always provided a safe place for enterprise and investment across a broad range of industry sectors. On St Helena, property rental and purchase offers excellent value; addition to the relatively inexpensive labour, which means your money can go further.
St Helena's good infrastructure such as our air access since 2017, modernised Company Registry, outstanding telecommunications from 2022, productive workforce and record of political stability, are just some of the factors making it an ideal location for investment. Which is why St Helena has been awarded a BBB- (stable) credit rating by S&P, which deems the Island investment worthy. The connectivity of the fibre optic cable from 2022 will offer investors and developers the opportunity to have a greater and comforting experience where your business can run smoothly and stimulate business and job growth. If you would like to learn more about Investing in St Helena, please see our Investor Prospectus.
Whilst COVID-19 has rocked the world's economies, St Helena has lived up to its reputation as the safest place on earth, and apart from quarantine requirements and associated entry restrictions, the Island has continued doing business as normal. If like many people across the world, you have been given the opportunity to continue to work remotely, why not consider spending all or part of your year working whilst in St Helena? Our climate is warm, and you will be rewarded with nature, fun and friendliness on your doorstep all year round.
If you are a researcher, St Helena can provide ample opportunities for research. It is one of the few places on earth where discoveries are still being found regularly. From the UV glowing properties of the spikey yellow woodlouse, to discoveries of new species of fish, and the research being done into the South Atlantic magnetic field anomaly, St Helena provides an opportunity for specialists to unearth previously unknown information. To find out more, visit our Research Institute.
Our Investment Strategy
St Helena is open for business, and with investor friendly policies in place, it's now easy to invest in the Island. View the Investor Prospectus for a range of sectors with growth potential in import substitution and export opportunities. The current development friendly investment policy was developed with the intention of opening the Island's economy to investment and increased levels of tourism. Its aims are:
Making the economy accessible to all potential investors by being an attractive destination to do business and encouraging a diversity of investors;
Ensuring maximum benefit from development for the Island's economy and people;
Setting parameters for development to safeguard what is important for the people of St Helena;
Assisting the locally-based private sector to compete effectively and efficiently in an open economy.
In order to foster business growth for both resident and non-resident investors, this Investment Policy sets out five principles which should shape all government policy on St Helena. The principles are:
Make St Helena a desirable and competitive destination to do business by removing barriers to investment
Encourage growth through import substitution, export promotion and domestic production
Support an economy which is accessible to all potential investors and promote investments across the economy
Support the locally based private sector to compete in an open economy but, where possible, avoid being overly protective
Promote fair, consistent and transparent decision making.
The Investment Strategy outlines how this will be done, and in particular outlines the tax, land and immigration reforms to assist Investment.
You may also wish to visit the Immigration web pages and Land Development pages. As a remote oceanic Island St Helena is very vulnerable to the introduction of new pests, weeds and diseases which can adversely affect agricultural production, the natural environment, and also human and animal health. There are strict controls on bringing certain items in, such as honey, please see the Biosecurity Service page for further information.
Strategic Assets
A number of state-owned assets also provide opportunity for investment.
• Bertrand's Cottage
• Cliff Top
• Longwood Dairy
• Luffkins Tower
• New Ground House
• Red Roof
• Signal House
• Verandah Quarters (Lower)
St Helena Government's (SHG) shares in Solomon & Company (St Helena) Plc.
St Helena Hotel Development Limited (SHHD)

The Sustainable Economic Development Plan
St Helena Government endorsed the Sustainable Economic Development Plan (SEDP) 2018-2028, which focused on addressing St Helena's trade imbalance and improving quality of life. The Goals of the SEDP are to:
Increase Exports
Substitute Imports
Attract Visitors and Increase Tourism
Mitigate impacts of inflation on the lowest income groups
Improve Land Productivity
Sustain and improve our Natural Capital
Improve Infrastructure
Develop, Maintain and Attract a Skilled Workforce
Develop the Digital Economy
Reduce Leakage of Income
Determination of St Helena's comparative advantages and disadvantages led to the exploration of sectors which, when developed, could assist St Helena to improve its trade imbalance. Whilst St Helena does not have the size of land and labour resources to provide a mass market product, it has a history of providing niche, high quality products such as award winning coffee and exquisite premium quality tuna.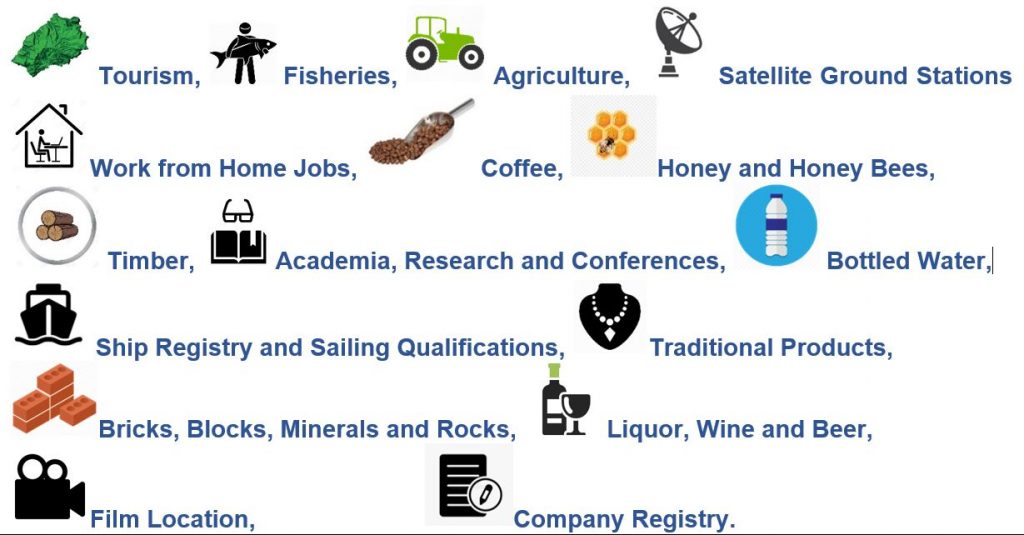 Other investment opportunities identified by the SEDP include international wholesaling of St Helenian export products;

Green waste collection and composting service
Recycling services and waste export
Drinks making business; including bottled water, carbonated drinks, fruit juice, wines, beers and coffee
Food processing business; bee hive rental/management services
Sailing school
Wellness or yoga retreat
Niche tourism activities e.g. bird watching holidays; photography holidays; guided walking, climbing or cycling tours; coffee picking experiences; St Helenian cooking classes; hosting of overseas school fieldtrips; military diving training; re-enactment history tours; no frills inclusive service for visiting yachts and 'adventure travellers'; enhancement of heritage sites for hosting events; local production of foods such as eggs, fruit, 28 day aged beef, chicken meat, alternatives to UHT milk, yoghurt, mushrooms, sunflower products, and soya products; aquaculture
International health services, such as residential care.
Investment Incentives
Investments by new or expanding enterprises that will benefit the economy of St Helena can apply for various incentives.
To promote exports and encourage activities in SEDP sectors where supply is not already saturated, St Helena Government has put in place a Corporation Tax Reduction from 25% to 15% applied to the activities within a business which produce goods and services which are directly exported by the business, i.e. bought and used abroad and applied to activities which produce physical goods deemed as key import substitution goods.
The import substitution activities are fishing and fish processing; cultivation of honey; growing and roasting of local coffee; farming and butchering of meat; farming of vegetables, legumes, nuts and fruit; secondary processing of locally grown food; distilling/brewing of liquor, wine or beer; production of traditional craftwork, jewellery, upholstery and clothes. Because Corporation Tax rates do not apply to self-employed persons, St Helena Government also reduced Self-Employment Tax rates by 5% for the activities as outlined above. The Corporation Tax incentive is higher in magnitude than the Self-Employment Tax incentive to encourage incorporation of businesses.
The incentive will run for a period of five years from 1 April 2019.
To benefit from these reductions and deductions, the business/self-employed person will be able to declare income and costs relating to export and import substitution activities as part of their self-assessment tax return, and the lower tax rate will apply accordingly. Businesses should structure their accounts to track costs and revenues pertaining to tax reduced activities during the year in preparation for their tax return submissions.
More information is available at https://www.sainthelena.gov.sh/public-services/income-tax/ or within the Income Tax Ordinance which can be found on our page of laws for St Helena.
An Approved Investment Scheme was also established which gives investors access to Customs Duty incentives.
An Approved Investment will be either a new enterprise or the expansion of an existing enterprise; will have a beneficial effect on the economy of St Helena; and will be adequately financed. An investment is particularly encouraged if it meets the following objectives:
Is sustainable; economically, environmentally and socially
Reduces the Island's dependence on imported goods, increases exports, increases and retains money on St Helena
Employs local people, where appropriately skilled staff are available
Adds to the range of products and services on offer to residents and visitors
Offers value for money to SHG where grant funding and/or tax incentives are given.
In understanding whether the investor will contribute to these factors, the answers to a number of questions will be sought in conjunction with the Sustainable Development Team, and inputted into an Investor Matrix. This will provide the basis to estimate the effect that an investment will have on St Helena's economy and provide evidence to support an application for Approved Investment Status.
More information is available within the Customs and Excise (Approved Investment) Regulations which can be found within the Customs and Excise Ordinance on our page of laws for St Helena. To begin the application process you would be required to fill in the Investor Form. Once completed, contact the Sustainable Development team via email address: Invest@sainthelena.gov.sh who will further assist on the process.
Register a Company
You may wish to start a company to do business on St Helena. St Helena has recently modernised its Company Registry Policy to provide you with a fair, transparent and competitive service.
St Helena's company registry service can be accessed online. To set up a company please visit: https://www.sainthelena.gov.sh/public-services/registry/
For Island expertise in registering of your company, please view: Business Support Services
Meet our Sustainable Development Team
St Helena Government's Sustainable Development Team is responsible for ensuring development for the Island that meets the needs of the present without compromising the ability of future generations to meet their own needs. The Team focuses on meeting the Altogether Wealthier goal of St Helena Government's 10 Year Plan by supporting industry which increase exports, reduce imports, and by working to manage income inequality.
Although not an exclusive list, the Sustainable Development team, with others in St Helena Government and the private sector, work on the following issues.
If you would like to contact the team, please email the Investment Co-ordinator, Melissa Fowler on melissa.fowler@sainthelena.gov.sh or Invest@sainthelena.gov.sh