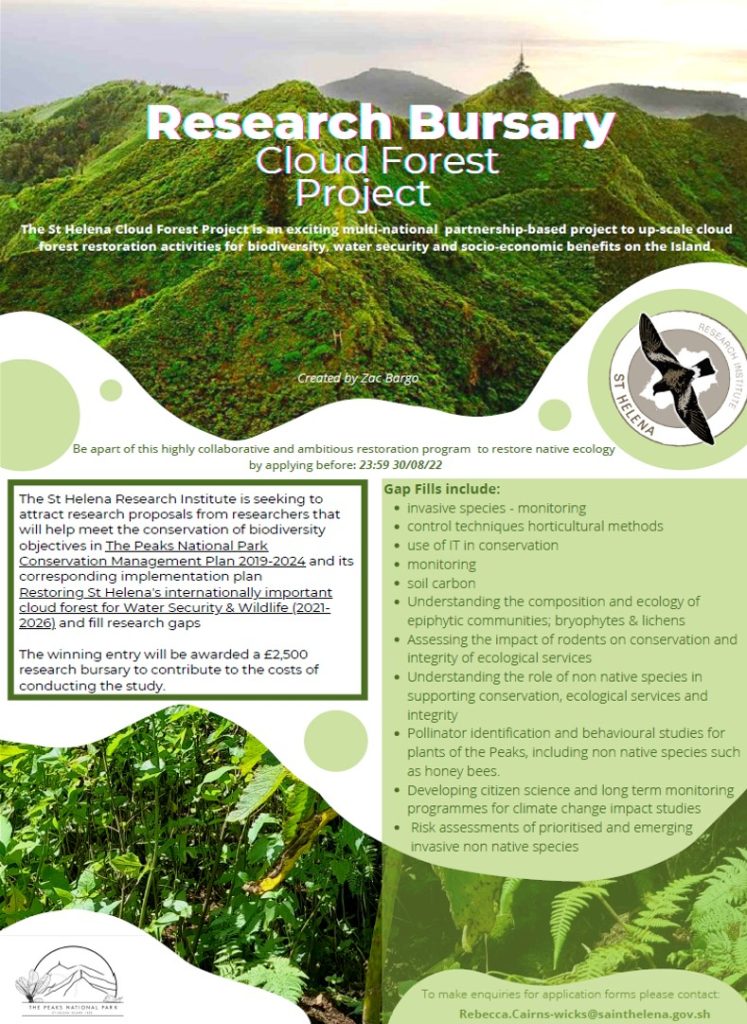 St Helena encourages high-quality and reputable research and welcomes researchers, archaeologists and conservationists to work in partnership to conduct, support and build local capacity for research on the Island (St Helena Sustainable Economic Development Plan, 2018-2028).
Research in environmental conservation and management is both active and well established on St Helena within St Helena Government's Environmental Management Division and across the non-government voluntary and charitable organisations.
Expanding research focused on development, on better understanding of and protecting the environment and heritage of St Helena is a priority as well as encouraging growth in research across other areas including:
Society, health and well-being
Information and communication technology
Natural and cultural capital & climate change
(Ref: The Island's 10 Year Plan (2017-2027) and Sustainable Economic Development Plan (2018-2028)
Research on St Helena is regulated and guided by the Environmental Protection Ordinance (2016) as well as the St Helena Research Policy and other relevant government policies to assure the:
Protection of St Helena's vital interests, including the protection of the Island's people, environment and heritage and
Positive development for St Helena through: knowledge transfer; equitable benefit sharing and long-term capacity building.
Knowledge transfer and benefit sharing are key themes of international research conventions and St Helena Government believes that the benefits of scientific research should accrue to all stakeholders in a fair and equitable manner.
These include benefits to the researcher and their institutions through academic recognition, career advancement and the furthering of institutional goals; benefits to local agencies through training opportunities and gathering of the evidence base to support local decision making; and benefits to the local community through increased international exposure, access and links to global academic and research communities and an enhanced understanding of St Helena's environment, history and context.
Anyone wishing to conduct research on St Helena, or within its territorial boundaries (St Helena includes territorial waters to 12 nautical miles, and here also refers to the Marine Protected Areas to 200 nautical miles), regardless of the field of study, must first obtain a Research Licence in compliance with the St Helena Research Policy, from the St Helena Research Council.
The St Helena Research Institute works closely with the St Helena Research Council and offers support services to both the Research Council in managing enquiries and the research community by offering advice and guidance.
The St Helena Research Institute is established under the St Helena Research Institute Policy as an affiliated centre of the Life Long Learning Sector of the Education & Employment Directorate.
Direct Links

St Helena Research Institute Website
St Helena irecord
Latest News
Mapping the Information Landscapes of St Helena
St Helena i-record – Video Creator
For further information about research on St Helena please contact: enquiries@sthelenaresearch.edu.sh.