Tara Wortley, Sales Manager of Family Owned Business – Rose & Crown Ltd
The Chevening Secretariat is accepting applications for UK Government scholarships to study in the UK in 2018/2019.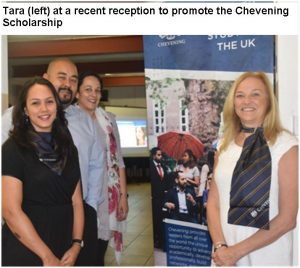 Applications for Chevening Scholarships are open until Tuesday, 7 November 2017, with applications to be submitted via: www.chevening.org/apply
Chevening Scholarships are awarded to individuals with demonstrable leadership potential who also have strong academic backgrounds.
St Helenian, Tara Wortley, studied a Masters in Business Administration under the Chevening Scholarship Programme from January 2013 to February 2014.
Among the many benefits of studying under the Chevening programme, Tara highlights one of the main ones as being able to be part of a classroom of international students that would not have been possible if she had studied via distance learning.
Tara said:
"The Chevening Scholarship offers a fantastic opportunity to dedicate your time and energy into studying.  Because your travel and living expenses are covered by the Scholarship, you are left really free to apply yourself to your course.  I often thought I would never have the opportunity to rejoin an academic path but the Chevening Scholarship made it all possible for me."
For more information on the eligibility criteria and award specifications, please visit: www.chevening.org/apply/guidance or contact Sandra Sim on tel: 22308 or email: sandra.sim@sainthelena.gov.sh.
Further information is also available at www.chevening.org
SHG
24 October 2017