Today, Tuesday 25 July 2023, is World Drowning Prevention Day. On this day the World Health Organization (WHO) reminds people that drowning is a public health problem and that anyone can drown, but no one should. For St Helena, this is an important issue. As an Island nation swimming, fishing and other water based activities are strong traditional and cultural practices, with safety advice (rough seas, dangerous areas to avoid, etc.) passed down from generation to generation.
This year the WHO is raising awareness of six evidence-based, low-cost drowning prevention interventions that countries and organisations can implement to significantly reduce the risk of drowning. These are:
Train bystanders in safe rescue and resuscitation
Set and enforce safe boating, shipping and ferry regulations
Improve flood risk management
Teach school-age children basic swimming, water safety and safe rescue skills
Install barriers controlling access to water
Provide safe places away from water for pre-school children with capable child care.
For St Helena, only five of the six risks apply (as one relates to flooding). So how do these risks apply to us locally?
St Helena Sea Rescue Service are competent in Sea Survival and are qualified in Immediate Life Support (ILS) and First Response Emergency Care Level 3. Seafarers are required to attend a sea survival course to have a good knowledge of the safety equipment carried on small boats and the techniques needed to survive at sea in heavy weather.
Wearing a lifejacket or personal flotation device is strongly recommended for recreational boating and activities in or near water.
Boat owners, including fishers, are asked to ensure that their safety equipment includes lifejackets, particularly if they are carrying passengers. All St Helena vessels are encouraged to ensure their safety equipment is fit for purpose. In the interest of safety, consideration is being given to making this a legal requirement as part of a licencing system in the near future. Fishers travelling to the seamounts are required to have life jackets, a life raft and sea survival training.
Instructions on Safe Use of Personal Water Craft has been made available by Port Control. You can access this through https://www.sainthelena.gov.sh/2020/news/safe-use-of-personal-water-craft-2/?highlight=Safe+Use+of+Personal+Water+Craft.
Age-appropriate ocean safety advice is given by the Sea Rescue Service each November before the summer school holidays to educate children in safe practices and some of the local threats. They also give general safety advice before events that attracts more people to the sea, such as boat fishing days, fishing on the rocks, etc.
Swimming is also integrated into the school curriculum so that every child on the Island has the opportunity to learn to swim. The programme focuses on key aspects of learning to swim, such as mastering basic techniques and being around water.
Lifebuoys are located at the Jamestown Wharf, Rupert's Jetty and beach, and Lemon Valley. This is vital survival equipment and should be treated with respect, so should not be removed unless there is an emergency. Please report any defects to the Sea Rescue Service or Port Control. Instructions on how to use this equipment can be found here or below:
There is a watercourse which runs through Jamestown known as 'The Run'. The Run experiences fast-flowing water during or just after heavy rainfall as well as when the Run is 'flushed', which normally occurs on Friday mornings between 6am-6.30am, but is carried out as and when required. Everyone is reminded to use caution when walking alongside the Run. Parents are also asked to discourage their children from playing in it and to educate their children of the potential dangers in and around the Run.
It should be noted that all the reservoirs are under the control of the Connect Saint Helena Ltd as the utilities company. Connect restricts access to these to prevent unintended injuries. The dams are equipped with lifebuoys and escape ropes in case a lone worker falls in.
The port of St Helena has designated swimming areas in Rupert's and James Bay. It is important that all vessels avoid these areas or obtain permission from the Harbour Master before entering them. There are also "No Wake Zones", whereby vessel operators are required to reduce speed when manoeuvring in these zones. To find out more about the safe area to swim, please refer to the two images below: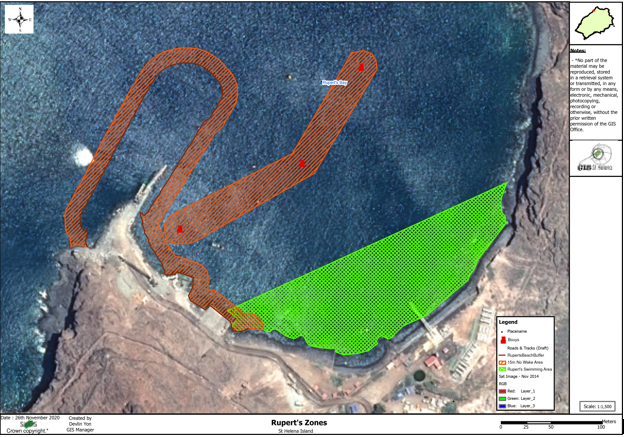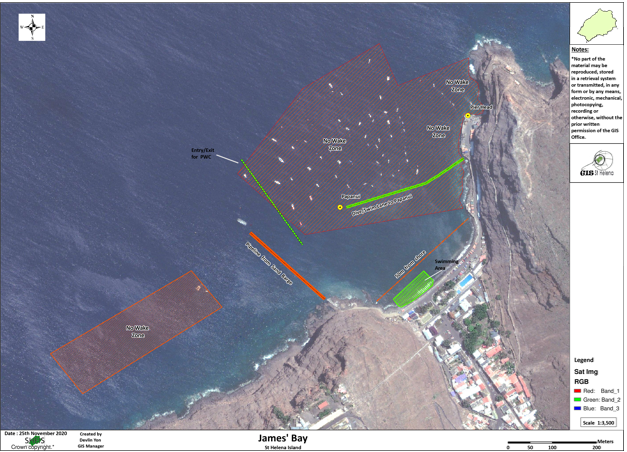 It is also important to remember that St Helena is a tourist destination. We have many visitors, both short and long term, who swim in the waters around the Island. As there are no lifeguards on the coast, visitors are asked to take advice from locals on safe areas to swim and the local threats the ocean can present.
Let's all make sure we do our bit to ensure that these safety tips are not forgotten and that everyone who wants to, can feel comfortable in the water.
#StHelena #SafeSeas
SHG
25 July 2023