RAIN SHOWERS NOT REALLY IMPROVING RESERVOIR LEVELS
Despite the recent heavy rain showers on St Helena, these have not materially affected reservoir levels or surface flows.  
As indicated in the graph below, from the month of November 2016 through to the middle of January 2017, there has been a gradual downwards trend in abstraction surface flows, or in other words 'run-off' water.  Where the surface flow spikes, this indicates rainfall.  However these spikes are brief.  To really see a definite increase in reservoir levels and abstraction flows we need a lot more rain.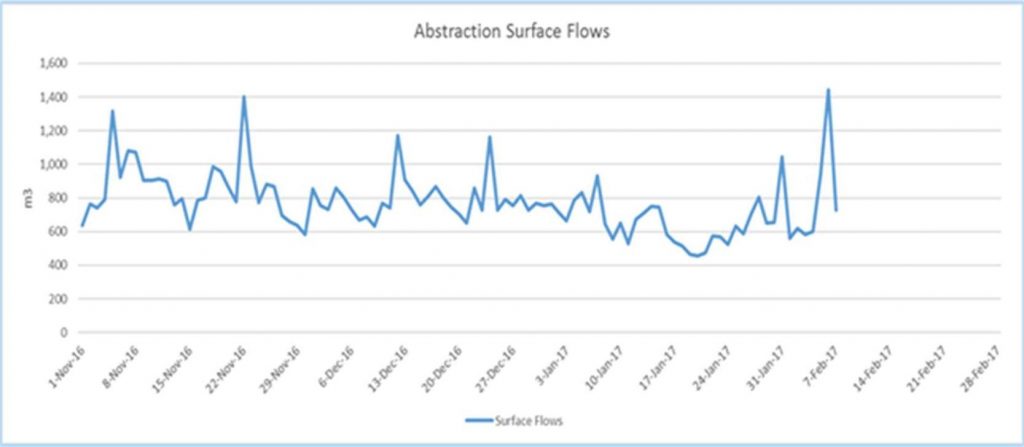 CEO of Connect Saint Helena Ltd, Barry Hubbard, explains:
"We continue to see slowdown in surface water sources with some consumers who have previously enjoyed spring water now requiring mains connections.  In mid-January the boreholes provided more water than surface abstraction for the first time ever.  Surface water flows will require an extended period of heavy rain before they are restored so the situation is still serious.
"We urge all St Helena residents to not become complacent. The Island's water supplies and water storage are still very critical.   We can't stress enough the need to work together as a community in cutting down on our consumption and keeping it down in everything we do."  
 Every drop counts, every action counts – please do your bit!
 St Helena Resilience Forum
8 February 2017