PREPAYING DUTY IN ADVANCE OF GOODS ARRIVING AT ST HELENA
 HM Customs & Excise would like to remind the public that the option of prepaying duty in advance of goods arriving at St Helena is still available as long as the importer (the person receiving the goods) is able to provide the supporting documents – waybills and invoices or any other necessary documentation – required by HM Customs.  All are welcome to use this facility but please be aware that imported goods will still be subject to examination when collected from the Wharf.
Importers should also note that, when collecting goods from the Wharf, they are responsible for collecting their Bill of Lading from their consolidators – Richard James International, Sainttrading, Zedcore and Solomon & Company (St Helena) plc.
Persons collecting goods on an importer's behalf will be asked to present authorisation in the form of a handwritten letter from the importer or using the attached form.  The attached form is only valid per shipment.
Authorisation forms may be collected from the Customs Office at the Wharf or at the Customer Services Centre in the Post Office Building. The form can also be downloaded from the SHG Website at the following link: https://www.sainthelena.gov.sh/forms/  *
*Direct Link – https://www.sainthelena.gov.sh/wp-content/uploads/2013/01/HM-Customs-Authorization-Form.pdf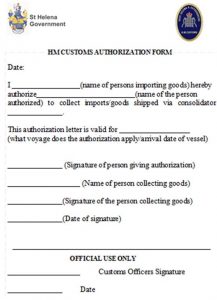 SHG
31 January 2017