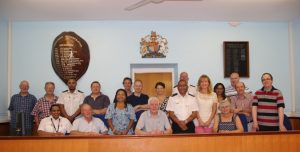 A meeting of Overseas Territories Coroners and their staff took place on Ascension Island between Monday 9 January and Friday 13 January 2017 (photo attached).
Representing St Helena at the meeting were St Helena and Ascension Island's Chief Magistrate and Chief Coroner, John MacRitchie, and Clerk to the Coroner, Amelia Gough.
John and Amelia were joined at the meeting by the Ascension Island Coroners and their clerk, the Senior Magistrate/Coroner and Head of the Court Service from the Falkland Islands, the Senior Coroner and a Coroners' Officer from Oxford (which includes Brize Norton Airport), a Forensic Pathologist from Glasgow University, and local Lay Advocates, medical and police officers.
Discussions held throughout the week highlighted the unique problems and challenges that the territories coronial systems experience, due to each Island's size, relative isolation and limited resources.
John MacRitchie said:
"Areas of mutual cooperation between the territories and the UK were agreed. These will go some way to overcoming issues which may otherwise have arisen in the future."
 St Helena's representation at the meeting was funded by the Foreign & Commonwealth Office, as part of their commitment to engage with and support the Overseas Territories.
SHG                                                                                                                                               
17 January 2017