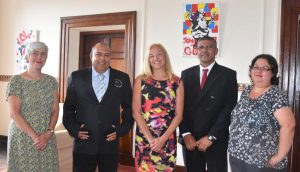 Miss Janet Lawrence, Mrs Julia Drozdowskij, Mr Nicholas George and Mr Nicholas Stevens were this afternoon sworn in as Justices of the Peace (JPs) for St Helena, by Governor Lisa Phillips (see photo attached).
The JPs' prescribed Oaths were taken before Her Excellency in the Governor's Office at the Castle.
The main role of Justices of the Peace is to sit as judges in the St Helena Magistrates' Court, in both civil and criminal cases. Not only do JPs need to be intelligent and have common sense, but importantly they must have integrity and the capacity to act fairly, especially in a small community like St Helena.
SHG
31 January 2017