The MET Station at Bottom Woods has announced that recorded rainfall for the month of February 2017 is the highest it's been since February 2011.
The data collected last month saw recorded rainfall amount to 115.2mm – just 5.6mm less than was collected six years ago when the recorded number stood at 120.8mm.
The 115.2mm recorded this year is the sixth highest monthly rainfall collection in the Island's history – the highest being back in February 1979 at 141.6mm. It is also the third highest that has ever been recorded during the month of February.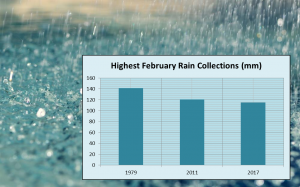 The MET Station at Bottom Woods has been collecting climatic data regularly since it was established in October 1976.
All data collected is specific to the MET Station and does not reflect on other Island locations.
SHG
2 March 2017