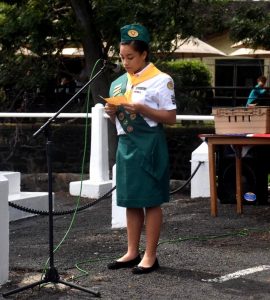 Today, Monday 13 March 2017, the 53 member nations of the Commonwealth celebrate Commonwealth Day. This year, activities will focus on the theme 'A Peace-Building Commonwealth'.
On St Helena, the main celebrations took place at the Cenotaph, Jamestown, where a special ceremony was attended by Her Excellency Governor Lisa Phillips, members of the Commonwealth Parliamentary Association (CPA) St Helena Branch, students from all four schools, Island Rainbows, Brownies, Scouts and members of the public.
Father Dale welcomed everyone to the ceremony and began with an opening prayer.
Her Excellency the Governor then read the Commonwealth Message from Head of the Commonwealth, Her Majesty Queen Elizabeth II (See attached).
The ceremony continued with a message from the Commonwealth Secretary General, read by Mrs Alice Phillips. The Secretary General's message included:
"Every single one of us has a contribution to make. Imagine the impact we can make as a Commonwealth of 2.4 billion people in over fifty countries by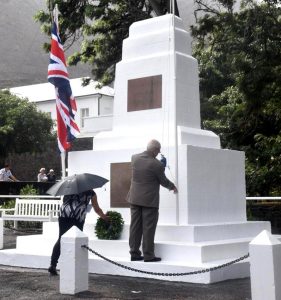 saying no to abuse or violence in our homes, taking action against all forms of violence against women, men and children, making bullying unacceptable in our school or workplace, and ensuring that senior citizens are safe from intimidation.
 "Commonwealth is another way of saying 'common good'. 'A 'Peace-Building Commonwealth' starts with each one of us taking individual responsibility, then joining with others so that with mutual support and encouragement we share the good from home to community, then ever more widely to the world."
 The Commonwealth Affirmation was read by Pathfinder Georgia Bedwell, followed by the raising of the Commonwealth Flag by the Deputy Speaker, John Cranfield. A poem was read by primary school student, Maleah George, and an essay excerpt was read by Prince Andrew School student, Ella Rose Stevens.
30 white pigeons were then released as a sign of peace.
Island resident, Mrs May Young, also gave a reflection on St Helena during the post-war years. She said: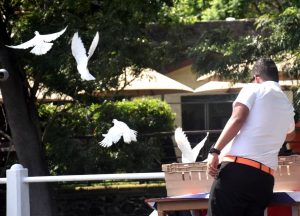 "On St Helena, it was poverty. There was plenty food of any kind, plenty vegetables, plenty fish, plenty of everything, no money, but a lot of love. And that is how we made out in those days. We shared."
 In his closing remarks, member of the CPA Executive Committee, the Honourable Derek Thomas, thanked everyone for attending the ceremony. He gave an outline of what Commonwealth Day is and when and why it is celebrated. He then made mention of how St Helena will be marking Commonwealth Day celebrations this year.
As part of today's Commonwealth Day celebrations, six Members of LegCo and six Prince Andrew School students met in the Council Chamber to debate the following motion: 'That Members of the Commonwealth should make promoting and contributing to peace-building their highest priority'.

The debate was interesting and brought out some valid points as to what the panellists believed ought to be the highest priority for Members of the Commonwealth. Whilst some spoke in favour of the motion, others believed that education should be the highest priority, making the point – 'If everyone was educated, they would think twice about causing conflict'.
Special Commonwealth Day assemblies were also held in each Island school.
Governor Lisa Phillips remarked:
"I talked to some of the schoolchildren today about how St Helena is part of the Commonwealth and that the Commonwealth is a very special grouping of countries. Together they share the same values of good governance and are a powerful champion for those values in the world today. Peace-building is the theme of this year's Commonwealth Day and we talked about how lucky we are on St Helena to have a peaceful and respectful society, which we don't want to lose."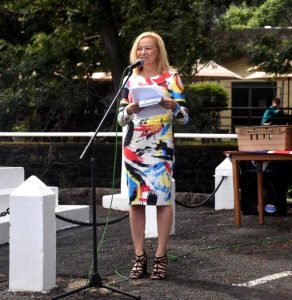 In the UK, St Helena also took part in 'A Peace-Building Commonwealth', with student Louis Youde representing the Island at the Commonwealth Day events, held in London and SHG UK Representative Kedell Worboys, MBE, attending the Commonwealth Day Observance at Westminster Abbey.
Speaking on Commonwealth Day, Prime Minister, Theresa May, said:
 "As we prepare to host the Commonwealth Summit in London next April, we are reminded today of the unique and proud global relationships that we have forged with the diverse and vibrant alliance of Commonwealth nations.
 "The UK has a longstanding and firm commitment to the Commonwealth and to the values it upholds, of democracy, human rights and the rule of law.
 "And in hosting the Commonwealth Summit next year, the UK is committed to working with all members not only to reaffirm these shared values, but also to re-energise and revitalise the Commonwealth to cement its relevance to this and future generations.
 "As we look to create a truly global Britain, the deep partnerships that we share through a 21st century Commonwealth can help us strengthen the prosperity and security of our own citizens and those of our many friends and allies across the world."
 SHG                                                                                                                                        
13 March 2017