Governor Lisa Phillips yesterday, Tuesday 11 October 2016, hosted a special reception at Plantation House to recognise the efforts, contributions and hard work of teachers on St Helena.
The reception was a fitting end to Teacher Appreciation Week, which aimed to raise the profile of teaching as a professional and rewarding career, and to show appreciation to teaching staff for their work in education.
In HE's welcoming speech, Governor Lisa Phillips said:
"Today is a day to say thank you for all of your hard work and to acknowledge the visible difference you are making in education on St Helena.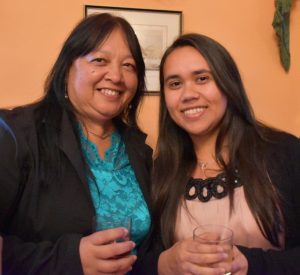 "It's bit of a scary thought, but I think for me, you've probably got the most influential profession on the Island, because what you have in your classrooms are future doctors, fireman, engineers, pilots, scientists and many more besides. All these children will grow up to contribute to the economic development of the Island.
"Tonight is to say something we should say to you every day, which is 'thank you'."
 Director of Education, Shirley Wahler, added:
"Thank you so much for all of your hard work, for all of the frustrations and stress you face on a daily basis, that just makes up a part of the job as a teacher. You don't talk about this often, but it's very much a feature, especially when you take that frustration and these difficulties and turn them into successes in children's lives.
 "The contributions you make may feel like something very small today, but may make a huge difference in a child's life. We picked up the tag line 'not all super heroes wear capes, many super heroes teach', so thank you very much for being our super heroes and for the work that you do for the children. When people ask us why we should appreciate teachers, the first thing we say is, 'Imagine a world without them'."
 SHG                                                                                                                                   
12 October 2016