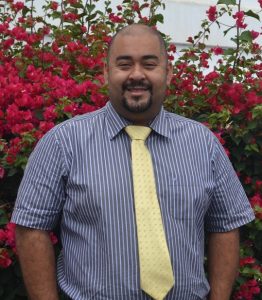 St Helena Government is pleased to announce today that Dax Richards (photo attached), SHG's current Assistant Financial Secretary, has been appointed to succeed Colin Owen as Financial Secretary next month, when Colin leaves to take up a post in Montserrat.  Dax will become SHG's Financial Secretary from Monday 11 July 2016.
Speaking of his appointment, Dax said:
"It's a great honour to be appointed to the role of Financial Secretary, advising both the Governor and our politicians.  I look forward to working with all parties in developing the Island for the people of St Helena. 
 "I hope this will also inspire others to take on key positions on St Helena, and I would encourage our youth to invest in their education as this is the real foundation for future success.  I would like to thank SHG and all those who have contributed to my development in some way over my working career and would like to say a special thank you to Colin Owen for his support and guidance over the past four years.  With a strong Corporate Finance team behind me, I look forward to the challenges ahead."
Financial Secretary Colin Owen commented:
"I have been privileged to work with Dax for almost four years. It has been great to see him develop as a professional and show a great work ethic in his roles. His previous commitment to his professional studies has led the way to this success.
 "He is the right successor to the role of Financial Secretary and I wish him and the team success over the coming year and the years to follow."
SHG continues to be committed to succession planning – ensuring that talented Saints are identified, developed and readied for senior roles. SHG aims by 2021 to replace 34 of the current 89 'TC' posts with local appointees, and has phased out nine such posts during the current financial year. Succession plans thus range from between six months to four years, and include distance learning, off-island training and work experience placements.
Chief Secretary Roy Burke concluded:
"We should be clear that Dax deserves this post on merit. He is clearly the most suitable person for the role and I am sure he will excel as Financial Secretary."
SHG
15 June 2016