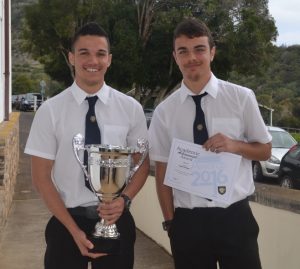 Prince Andrew School held its annual Celebration of Achievements assembly on Wednesday 10 August 2016. Students, parents and invited guests – including Acting Governor Sean Burns and Mrs Burns, Councillor Christine Scipio-O'Dean, Mr Nigel Dollery, Father Dale Bowers and the Director of Education & Employment, Mrs Shirley Wahler – gathered in the school hall to celebrate the presentations.
Head Teacher Penny Bowers opened the assembly and highlighted to students the importance of working hard to achieve their full potential and become successful. She also congratulated those students who would receive awards during the assembly.
Head Teacher Penny Bowers said:
"Today we come together to celebrate the ending of another school year, and to appreciate and congratulate those students who will shortly be coming on the stage to receive an award.
 "We teachers may seem to be rather crabby for most of the time, and we might nag you all of the time – it's only because our greatest wish is to ensure that all of you achieve your fullest potential while enjoying your learning here and to be successful in all you set out to do. That is all we want for you."
 The first presentation of the day was for the Commonwealth Essay Competition. In the junior category, third prize went to Ananda Thomas, second prize to Ronaldo Johnson, and Alexia Duncan won first prize, with Jenna Thomas being the first runner-up. For the senior category, Mic-Kail Harris and Jerome Clifford took joint third prize, Georgia Bedwell won second prize, and Jordon Stevens claimed first prize.
Students receiving awards for Student of the Year were:
Year 7 – Lee-anne Green
Year 8 – Harley Andrews
Year 9 – Georgia Bedwell
Year 10 – Keira Francis
 Heart of Gold Awards were presented to Alison Hubbard and Nigel Dollery, and awards were also presented to students for Sports, Creative Arts and Environment & Conservation. Cavendish took the Cup for leading House.
During the assembly two presentations of students' written work – 'The Gentle Giant' by Katie Williams (Year 7) and 'A Life in the Day …' by Travis Peters (Year 10) – were read by the Student President and Vice Student President.
In his closing speech, Father Dale gave a vote of thanks and remarked on the experiences of previous students of Prince Andrew School who had strived hard to achieve their full potential – of particular note was Dax Richards who recently became the first Saint Financial Secretary.
SHG                                                                                                                            
10 August 2016