The Health Directorate has recently installed a new Radiography Suite at the General Hospital. The newly refurbished department offers a much improved service and includes a new radiography machine, as well as the CT scanner and fluoroscopy machine, all of which produce images using radiation. The images produced are very useful for doctors and the new suite is better for any patients needing scans or x-rays.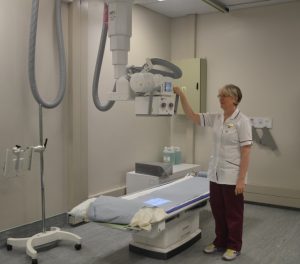 Radiographer, Rachel Cornall, has been trained to use all these machines, whilst understanding the dangers of radiation. Rachel has learnt how to get the best images available using as little radiation as possible.
Rachel said:
"In the new Radiography Suite we have a new x-ray machine as well as a CT scanner. The CT scanner, which has been in operation since February, has meant that so far at least one hundred and five people haven't needed to go off-Island for a CT scan, as we can now carry them out on St Helena."
Altogether, the hospital has five x-ray machines and two ultrasound machines which guarantee a consistent x-ray service at the Hospital.
Rachel concluded:
"The redevelopment has really helped the patients. With the old x-ray machine, patients had to climb up onto a table, whereas the new machine will lower right to the ground and we are able to move around any trauma patients to get the best possible image."
A photo is attached to this release.
SHG
26 August 2016