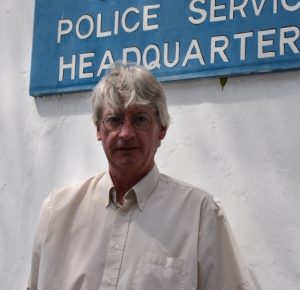 Detective Constable (Offender Management), John Clark (photo attached), arrived on Island on Tuesday 11 October 2016 to undertake the specialised role of preventing offenders from reoffending. John is initially on St Helena for 18 months.
John will review cases and investigations concerning offenders living in the community to ensure compliance with the registration requirements to support the prevention of reoffending. He will also assist with other serious crime investigations within the department.
John commented:
"I'm extremely excited with the opportunity to live and work on St Helena. Having only been here for a short time, my biggest challenge so far is to find my way around and actually identify home locations of offenders, which are often off the beaten track.  I'm extremely grateful to our response officers who have excellent local knowledge and are assisting me with this.
 "I look forward to engaging with the community of St Helena and forging strong working relationships with our partner agencies in order to prevent crime and reduce offending behaviour."
 John joined the Royal Navy in 1971 responsible for the repair and maintenance of military aircraft. He left the Navy in 1980 and commenced his policing career with Thames Valley Police. He became a Detective Constable nine years later for Lancashire Police where he conducted that role for 20 years, investigating serious crime and working in Lancashire's Dangerous and Sex Offenders Unit.  Since retirement from the Force, John has carried out investigation work for the UK Environmental Agency, Marine Management Organisation, and the National Crime Agency.
Prior to taking up employment on St Helena, John worked as an investigator with the National Crime Agency in the UK on an Inquiry into Historic Child Abuse in Children's Homes in North Wales.
Detective Chief Inspector Wendy Tinkler concluded:
"John is a highly experienced Detective with an impressive background in Offender Management.  His experience will be a welcome addition to our CID Department and will enable us to build upon our current safeguarding procedures on St Helena."
 SHG                                                                                                                               
25 October 2016