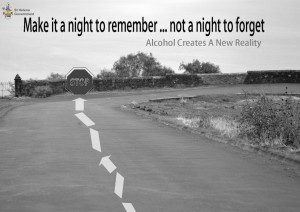 The St Helena Safeguarding Children Board has today launched a Drink-Drive poster to highlight the fact that 'alcohol creates a new reality' – an issue that becomes even more dangerous when those under the influence choose to get behind the wheel of a car and drive.
The poster targets not only drivers, but parents, guardians, children and young people on St Helena, alerting all to the dangers of drink-driving and also to the danger of travelling as a passenger with someone who is driving whilst intoxicated.
Drink-driving is a common safeguarding issue throughout the world, as alcohol tends to make the consumer over-confident and more likely to take risks when driving.  Alcohol affects your judgment, depth perception and your motor skills needed to drive safely.  Naturally, this poses a threat to all road       users.
Head of CID & Safeguarding, Pam Trevillion, said of the initiative:
 "Drinking and driving can destroy lives – and sadly there are a number of drivers on St Helena that are willing to put theirs and the lives of others at risk.  It is a fact that alcohol impairs the ability to drive and affects people's judgment. 
"I hope this campaign serves as a reminder to all at the start of a new year to drive safely and not to drink and drive.  It is the responsibility of all of us to prevent drink drivers from getting behind the wheel."    
The poster is attached to this email, and will also be displayed in various public outlets around the Island.
SHG
8 January 2016