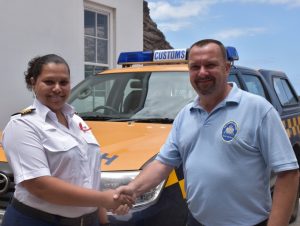 Acting Customs Manager, Juliette O'Dean (photo attached), has today, Thursday 1 December 2016, been promoted to Deputy Head of Customs. This comes on the back of hard work and dedication shown by Juliette in developing and championing AYSCUDA as well as a drive for continual professional development.  It is hoped that in the future Juliette will be able to step into the role of Head of Customs.
Head of Customs & Port Control, Jon Holland, said:
"This is a huge achievement for Juliette. At just 29 years of age, she is the youngest officer in recent history on St Helena to have become Customs Manager, and she will now be the very first Saint to have ever reached 4-bar rank within HM Customs.
 "I would like to congratulate Juliette, of whom I am extremely proud today."
 As Deputy Head of Customs, Juliette will be responsible for day-to-day oversight and management of the service in all its functions – Administration, ASYCUDA, and Operations.
Juliette commented:
"I feel both privileged and honoured to have been given this opportunity to serve St Helena in such a senior role. I do hope this gives other Saints the inspiration and confidence to aim for senior positions on St Helena in the future".
 Financial Secretary, Dax Richards, added:
"We are really proud of Juliette. This promotion is well deserved and based on merit and commitment. We will continue to invest in and support Juliette over the coming years so that she can eventually take the next step to become Head of Customs." 
 Juliette started her career in HM Customs initially as a part-time Customs Officer at the age of 19. She subsequently went full-time with the service in 2009, and has since worked her way up, through the ranks, serving in every position of the department.
SHG would like to extend congratulations to Juliette on her well deserved promotion.
SHG
1 December 2016