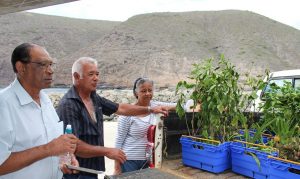 LEMP PLANTS GIVEAWAY
The Landscape & Ecology Mitigation Programme (LEMP) – part of St Helena's Airport Project – has gifted specially grown plants to the residents of Rupert's Valley (pictured) in recognition of the impact airport construction has had on the community.
At an event organised by Basil Read on Saturday 18 June 2016, Rupert's Valley residents were invited to visit the new Permanent Wharf where plants were handed out by the LEMP Team.
Originally grown to aid restoration works in the Rupert's area, the plants cannot currently be planted, as construction works continue in the Valley.  So these plants have been gifted to residents for their private properties. Further plants will be grown for the restoration works in due course.
LEMP Project Manager Ross Towers stated:
"It's great to see these plants going out of our nurseries and into the community. I look forward to seeing the valley greening up in years to come.
"The residents of Rupert's Valley have lived in close proximity to major construction works and have been supportive throughout. It is nice to be able to give them something positive, and reassure them we will not be forgetting the area in the long term – as we have clear plans for future restoration."
LEMP would also like to hear from any of the District Clean Up Community groups as more plants are available for the purpose of embellishing the Island.  Available plants are Hibiscus, African Lily, Money Plant, and Lemon Trees. These are for community led District beautification – and not for private properties.
Anyone interested in applying for plants can contact Ms Belinda Thomas, LEMP Nursery Supervisor, on tel: 22261 or e-mail: hthnursery@helanta.co.sh.
SHG
22 June 2016