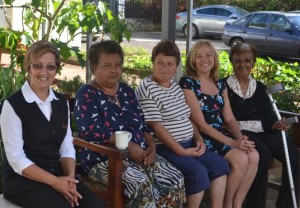 HE Governor Lisa Phillips this week visited the Residential Care Facilities on St Helena.  On Tuesday 3 May 2016, she met residents at Ebony View and Cape Villa and on Thursday continued her tour to Longwood – visiting Barn View, the Family Centre and Deason's sheltered accommodation.  The Governor also visited Brick House.  Three pictures are attached.
Paul McGinnety Assistant Chief Secretary said:
 "Both the residents and the staff were honoured to meet Lisa and her warmth, empathy and understanding shone through as she met all of our residents and staff on duty. We look forward to many more visits and working closely with Lisa and our staff to celebrate all of the positive progress that we have made in our residential settings."
The Governor commented:
 "As I said in my inauguration speech, I want to get out and about.  I made a point of visiting the residential care facilities first to see how we are caring for our vulnerable people. 
"The care facilities have a lovely feel to them, and the clients were very happy to see me – but the highlight for me was the dedication of the staff there. They are all wonderful people and I said they should be very proud of what they do.  I'm sure everyone else on the Island feels the same way about them."
 SHG
6 May 2016