Governor Lisa Phillips met, on Friday 16 September 2016, people that help to conserve the uniqueness of St Helena – the St Helena Nation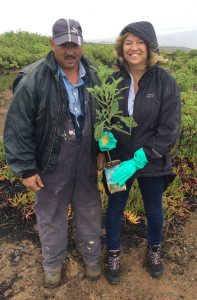 al Trust (SHNT).
During her visit Governor Lisa Phillips met staff from SHNT and saw some of the ongoing research. She also had the opportunity to plant a Gumwood at the Millennium Forest and heard how St Helena is home to many endemic species, including the Scarlet Pimpernel (the Mole Spider).
Governor Lisa Phillips commented:
"The St Helena National Trust do a great job of protecting the Island's history and heritage. As progress happens, this is a really important role for future generations."
Governor Lisa Phillips concluded by announcing that the St Helena National Trust (SHNT) and the Landscape & Ecology Mitigation Programme (LEMP) have been licenced to supply endemic plants for the District Clean-Up. Teams should make contact to take advantage of this generous offer.
Two photos are attached to this release.
 SHG                                                                                                                             
19 September 2016