LARGE PASSENGER AIRCRAFT TO LAND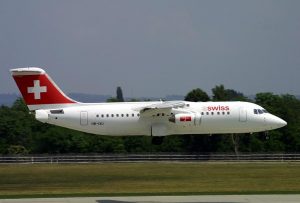 Planning is underway for an Avro RJ100 jet aircraft (pictured), operated by Tronos Jet Maintenance and flown by Atlantic Star Airlines, to fly to Wideawake Airport, Ascension Island, followed by a call at St Helena Airport on the same day.  Both are technical stops, and the crew will overnight on St Helena.
Atlantic Star has been commissioned to deliver the aircraft to Chile.  The flight will travel from Zurich Airport, Switzerland, with technical stops in the United Arab Emirates, Senegal, Ascension Island and St Helena.  From St Helena, the flight will then undertake technical stops at Ascension Island, Brazil and Uruguay, finally arriving at Presidente Carlos Ibáñez del Campo International Airport, Chile – the final destination.
The RJ100 will be the largest aircraft to operate at St Helena Airport since ASSI certification on 10 May 2016.  Flown by an airline with a particular interest in operating to St Helena, the flight will provide the Airport with additional real time data and a pilot's report – all part of building a more comprehensive picture of conditions at St Helena Airport. 
 The RJ100 aircraft can be configured for between 78 and 97 passenger seats.
On this occasion, the aircraft will be carrying approximately 16 non-commercial passengers, including the flight crew.
ETA at St Helena is planned to be at around 15.45hrs (St Helena time) on Friday 21 October 2016.  However, final confirmation is still awaited.  Further information on this will follow.
Notes to Editors
 While St Helena Airport does not yet have a regular commercial air service, the Airport is operational with several commercial flights and three important medevac flights so far operating into it.
Intensive work continues to mitigate the challenges of wind shear at the Airport but getting this right involves complex work and will take some time.  Computer and physical modelling are being employed to build a stronger picture of the conditions under which we will be asking aircraft to operate.  
Safety remains paramount.
SHG
12 October 2016