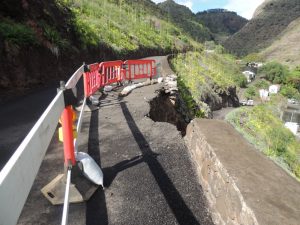 Since the failure of the earth supporting the retaining wall on Constitution Hill, the Roads Section has been conducting repair works, which are progressing well.
By necessity the works are quite slow – the blockwork has to cure before it can be concreted and back-filled, and then the concrete needs to cure before the next lift can take place.
Constitution Hill Road remains closed due to the space needed for the workforce, the scaffolding access and the instability of the road above.
 ENRD Technical Services and the Roads Section are working as quickly as the circumstances will allow, and will re-open the road to the public at the earliest possible opportunity.
 The Roads Section apologises for the inconvenience caused, and thanks the public for its continued understanding and co-operation.
SHG                                                                                                                               
4 November 2016