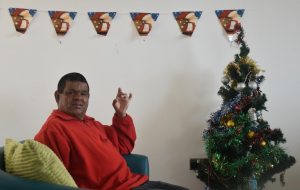 Clients at Ebony View Care Home have recently received Christmas donations from four companies on St Helena – Solomon & Company (St Helena) Plc, Thorpe's Emporium, Rose & Crown, and Queen Mary Store. These donations have made Christmas at Ebony View extra special for the clients.
Manager of Ebony View Care Home, David Vago, said:
"This is a wonderful donation to the clients, and I'd like to say thank you to the companies that donated."
 The clients at Ebony view are 'really thankful' and 'excited' to display their decorations, lights and Christmas trees in their flats.
 Clients and staff at Ebony View would like to say a big 'Thank You' to the companies for their donations, and would like to wish everyone a Merry Christmas and a Happy New Year.
SHG                                                                 
19 December 2016