A new Council for Ascension Island has today been announced by Returning Officer Dean Hambleton-Ayling, following an Island-wide election on Thursday 1 September 2016.
The following candidates have been duly elected to serve as Members of the Ascension Island Council:
• Samantha Jean Arms-Lawrence, Georgetown
• Marie-Anne Mabel Dennis, Two Boats
• Jacqueline Rose Ellick, Georgetown
• Keturah Viola George, Georgetown
• Nicholas Ivan John, Georgetown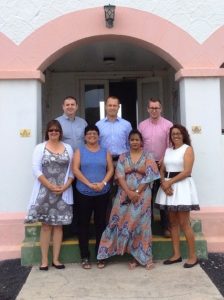 Today Governor Lisa Phillips congratulated those elected to serve on the Ascension Island Council and noted the encouraging 80% female representation.
Governor Lisa Phillips said:
"Congratulations to those of you who have been elected to serve as Councillors of Ascension Island. I wish you all the best in the important roles you must now carry out – especially as you are my 'eyes and ears' on Ascension. I look forward to working with you all."
Ascension Island Administrator, Marc Holland, added:
"The Governor & I look forward to working with our new Island Council. They are the people's representatives who do fantastic public service. We would like to get the whole community more involved in Council business."
In total, 121 people cast valid votes. This represents approximately 23% of those eligible to vote – compared with 35% in 2013.
The Ascension Island Council met for the first time today, Friday 2 September, at 1pm, when Members Keturah George, Marie-Anne Dennis, Jacqueline Ellick and Samantha Arms-Lawrence took the Oaths of Office. Nicholas John will take the prescribed Oaths when he returns from overseas leave.
A photo of the new Ascension Island Council is attached to this press release.
SHG
2 September 2016