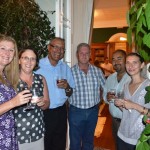 Acting Governor Sean Burns and Marina Burns, hosted a special reception at Plantation House last night (14 April 2016) to formally thank the team from Air Safety Support International (ASSI), DFID's Airport Project Manager, Nigel Kirby, and the pilots and crew of the Bombardier Challenger 300 business jet, for their work on St Helena.
In opening remarks, Sean Burns said:
"Thank you to everyone who has been involved in the Airport Project for your efforts. Special thanks this week go to the ASSI team who are here tonight. I think everyone should be incredibly proud. We've been through remarkably busy weeks and months and I know there is still a way to go.
"We await with great interest ASSI's report once they get back to the UK."
The Bombardier jet and her passengers departed the Island just after 9am this morning (Friday) after conducting several flights as part of ASSI's on-site audit of St Helena Airport – part of the certification process.
Three photos are attached to this release.
SHG
15 April 2016