The French Navy Ship 'Albatros' is moored in James' Bay on a two day visit to St Helena, en route from Reunion Island to Brest, France, where she will be decommissioned.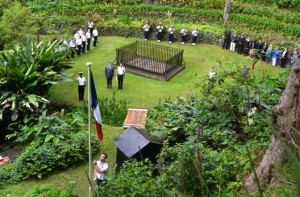 The vessel, captained by Commander Riaz Akhoune, arrived at the Island yesterday (Tuesday), at around 8am. Shortly after, half of the ship's company disembarked to enjoy various sightseeing activities on St Helena. Schoolchildren from St Helena were invited to tour the Albatros on both days that she was in James' Bay.
A short ceremony was held at Napoleon's Tomb, attended by Acting Governor Sean Burns and Mrs Burns, Captain Akhoune, members of the French Navy (some at Arms) and distinguished guests.
In his speech, the Acting Governor, on behalf of Governor and Mrs Capes, extended a warm welcome to the Captain and crew of the Albatros. He spoke of the Albatros' previous visit to the Island during St Helena's Quincentenary celebrations in 2002 and last year's visit of fellow French Navy vessels Mistral and Lafayette.
Acting Governor Sean Burns said:
"St Helena's connection with France is of course well known and firmly embedded in the Island's history. That link began 200 years ago when Emperor Napoleon was exiled to St Helena.
"On behalf of the people of this Island I thank you Captain and your crew for visiting St Helena. We hope that during your short stay you have a chance to get around the Island and enjoy some of the wonderful sights, and that you have an opportunity to meet some of the local community, who I know will make you very welcome indeed."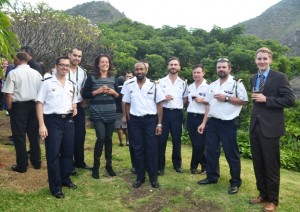 Commander Akhoune added:
"The date of our visit to St Helena is symbolic in two ways. Indeed, it was on 18 June 1815 that the French troops were defeated at Waterloo facing the tremendous Allies coalition. It was also on this same year 1815 that Napoleon boarded the English frigate Northumberland, steering for his final exile place – St Helena.
"Ourselves, crew members of the Albatros, are proud to maintain a French presence in some of the most hostile and rough seas of the world, for more than 31 years. We will feel a great emotion tomorrow, watching the ripped coasts of St Helena Island moving away from us. This is actually our last mission and we are going back to Brest, where this ship will be decommissioned in just a few weeks."
Following the ceremony, members of the French Navy visited Napoleon's House where they were given a tour, before attending a reception hosted by the Acting Governor and Mrs Burns at the Briars Pavilion.
Today an official lunch was held onboard the vessel for invited guests and the other half of the ship's company came ashore to tour the Island, prior to the ship departing at around 7pm this evening.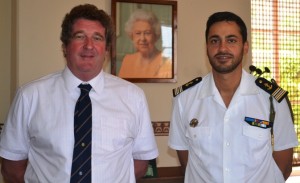 Commander Akhoune concluded:
"It is an honour for us to be here in St Helena. The Island is in the dreams of a lot of French people. We dream of seeing the Island and the different ways Napoleon lived on St Helena. We are proud to be here. It is really meaningful to us."
This is the Albatros' final mission with the French Navy before the ship is decommissioned, and St Helena is especially honoured to have been included in the ship's final itinerary.
Three photos are attached to this press release.
SHG
17 June 2015