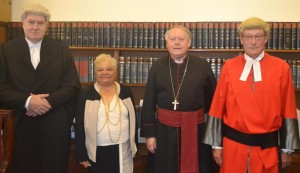 The formal opening of the St Helena Supreme Court took place today, Monday 23 November, at 10am.  Civil and Criminal cases will be heard by the Supreme Court until Thursday 17 December 2015.
His Lordship, the Chief Justice, Charles Ekins Esq, entered the Courthouse accompanied by the Sheriff of St Helena, Mrs Pat Musk MBE JP, plus the Bishop of St Helena, Dr Richard Fenwick, and Chief Magistrate, John MacRitchie.  Lawyers, JPs, officials, and members of the public were also in attendance.
Attorney General Nicola Moore welcomed several new practitioners on-Island – firstly with the recent addition to the Attorney General's Chambers of Angelo Berbotto, as Crown Counsel Safeguarding – a post offering support to both the Chambers and the Public Solicitor's Office in providing specialist advice to ensure protection of the vulnerable in St Helena's community.  An introduction was also given to the new Public Solicitor, Nicholas Aldridge and Charlotte Collier (Child Care & Civil) to the Public Solicitor's Office.  Ben Channer, Locum Crown Counsel (Civil), was also welcomed and is currently providing services to the Attorney General's Chambers until December 2015.
Nicola reflected on the challenges and opportunities of the legal landscape currently on St Helena, in particular referring to the Jury's Amendment Ordinance, the Environment Protection Ordinance and the Mental Health Capacity Ordinance.
The Chief Justice spoke of his understanding of the challenges that have faced the Public Solicitor's Office, the Attorney General's Chambers and Judiciary Services in the run-up to the Supreme Court – and commented that he looks forward to working with them all, to accomplish all sessions in an efficient and effective manner and to ensure proper administration of justice.
SHG
23 November 2015