HMS Lancaster, one of the Royal Navy's Type 23 Frigates, and the tanker RFA Gold Rover, are expected to visit St Helena from Tuesday 13 to Friday 16 October 2015 to take part in the bicentennial anniversary of Napoleon's arrival to the Island 200 years ago (aboard HMS Northumberland). She will take part in the Napoleon anniversary commemorations, and further strengthen existing ties with the Island.
All the ships in the Type 23 class are named after Dukes, in this case, the Duke of Lancaster – who is better known as Her Majesty the Queen.  The British Monarch is the ship's very special sponsor and Her Majesty takes a keen interest in Lancaster's activities around the globe.
The RFA Gold Rover, built on the River Tyne in north-east England, entered service in 1974. This is her final deployment after over 40 years of service, replenishing Royal Navy ships with fuel, oil, aviation fuel, lubricants, fresh water and a limited amount of dry cargo and refrigerated goods. Her 56 officers, non-commissioned officers and other sailors departed from HM Naval Base Devonport for the last time with an escort of tugs throwing water spouts high into the air to mark the occasion.
Commander Peter Laughton MBE, HMS Lancaster's Commanding Officer said:
"It is a great honour to visit St Helena and take part in the Napoleonic Bicentenary Week.  I am sure it will be a wonderful experience and also allow us to continue the long and close relationship the Royal Navy enjoys with the Island and its community."
HMS Lancaster has completed two thirds of her nine-month deployment, and has so far travelled over 24,000 miles with over 14 port visits on four continents. As well as visiting British Overseas Territories, her deployment has also seen a range of other tasks including general defence engagement, maritime security and conducting training with foreign militaries. On leaving St Helena, HMS Lancaster will visit a further seven countries. On returning from deployments, HMS Lancaster is greeted, wherever possible, by a Lancaster bomber of the RAF Battle of Britain Memorial Flight, which provides a fly past over Portsmouth harbour.
HMS Lancaster is the first ship in the Royal Navy to deploy with the new Wildcat helicopter and her crew are wearing the newest Naval uniform in 70 years.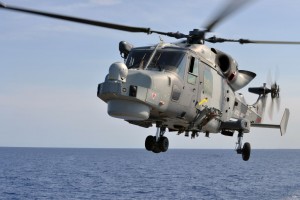 The versatile Wildcat, the latest generation of multi-role helicopter for the Royal Navy, is designed for a variety of roles including anti-ship, anti-submarine, ship protection, casualty evacuation, battlefield reconnaissance and general utility.
Three photos are attached to this release, along with an information leaflet on HMS Lancaster.
Further information on the ships' visit will follow.
SHG
28 September 2015