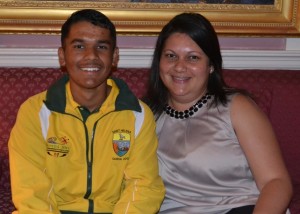 A reception was hosted by HE the Governor and Mrs Capes last night at Plantation House, to welcome back St Helena's Jersey Island Games participants and to wish farewell and good luck to the Samoa 2015 Commonwealth Youth Games team (photos attached).  The Governor acknowledged that St Helena strives to take part in sporting events internationally, never deterred by the challenge of travel time and cost to attend such sporting events.  To illustrate that he noted that the Samoa team will travel through South Africa, Australia, New Zealand, the UK, the United States and Ascension Island.
As well as praising sporting achievements, the Governor also recognised those who support our teams. As an example he remarked on Pat Henry's invaluable commitment to developing our shooting team and the tremendous work of Nicky Stevens and others of the National Amateur Sports Association.
Governor Capes also took the opportunity to remark positively on the recent trip by Eira Stevens to attend the artist 'Lock-In' in Jersey, the dedication of the Sea Rescue Crews that have recently undergone intensive training, and he noted the excellent work of those engaged in making safe the RFA Darkdale in James' Bay.
Councillor Derek Thomas said:
"A motion has been passed in Legislative Council for sport to become a key objective on St Helena.  We want to raise the profile of sport and hope to provide financial support to demonstrate that St Helena Government sees sport as a priority.
"With Air Access we will have a quicker way of attending international competitions, as well as attracting professional trainers to the Island.  We want to develop our infrastructure and attract international support."
Wendy Benjamin, on behalf of the NASAS Committee, thanked the Governor and Mrs Capes for hosting the reception.  She commented:
"I am pleased that the Jersey team have made us all proud of their achievements in winning medals in the women's shooting events and receiving certificates in the Small Island events.
"We were able to send our largest team this year, due to donations and the efforts of our sponsors, such as St Helena Tourism, Ascension Island Government, Mrs Capes, Patsy Flagg and the St Helena Golf Club.  I'd also like to thank team managers Barbara and Pat, coaches and the families of team members for their support."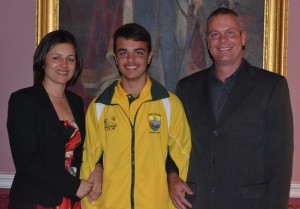 Within the Island Games competition, there is Small Island category, where certificates are awarded to the best small island games competitors. In Jersey, St Helena was awarded certificates – which the Governor presented at last night's reception – to Patrick Sim, Malcolm Williams and Martin Buckley for golfing, and to shooters Jordie Andrews and Simon Henry.
SHG
13 August 2015