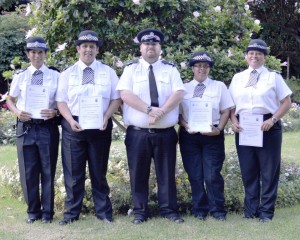 Police Constables, Julianne Benjamin, Cyndi Corney, Jane John, Emerald Newman and Michelle Thomas sat and successfully passed the Police Sergeants examination on 23 April 2015.
Examination topics covered Crime, Traffic and Evidence Procedure, and General Policing. Leading up to the exam, Sergeant Matthew Breeze supported the Officers with personal development and teaching of the topics. The Officers are now eligible to appear before the promotion board, to be held in June 2015.
Inspector Jonathan Thomas commented:
"This is a great achievement for all Officers concerned and we are achieving our objectives to develop local Officers to police the community now and in the future.
"I am grateful to Sergeant Breeze for the time and commitment he has put in and for the hard work of the Officers to achieve the necessary level of learning. I would like to encourage anyone who is looking for a challenging career to consider policing and apply to serve our community and to make a difference. 
"Once again congratulations to all Officers on another milestone in their policing career, I am proud of you and so is the entire Police Directorate. I wish Officers well for the upcoming promotion board."
Chief of Police, Trevor Botting, added:
"I am delighted that the five local Officers have passed the examination qualifying them for the rank of Sergeant. I look forward to being able to promote a number of these Officers in the near future and seeing them develop into leaders within the Police Service."
Two photos are attached to this release.
Trevor Botting, Chief of Police – St Helena and Ascension Island
SHG
12 May 2015