An awards ceremony was held at the Jamestown Community Centre on Tuesday, 20 January 2015, organised by Lifelong Learning Services (previously AVES). Attending the ceremony was Director of Education & Employment, Colin Moore, the Education and Employment Committee, awardees and invited guests.
The ceremony awarded certificates to recipients who have completed Functional Skill Maths, English Entry Levels (1-3 and 1 & 2), GCSE Maths, GCSE English Language and Literature, GCSE Statistics, GCSE Accounting and GCE Advanced Level English.
In his speech on the day, Colin Moore commented on the accomplishment of all recipients:
"On behalf of the Directorate I would like to thank you all for your hard work and congratulate you on your deserved success in achieving your certificates. Adult learners are just as important as pupils and students in school and all of you are a real credit to the Island for the way in which you are self-improving.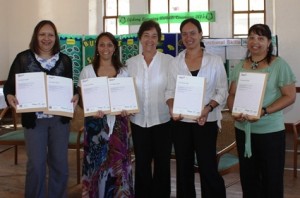 "As Director of Education, I would now like to set each and every one of you the challenge of coming back next year to gain further qualifications and show the wider community the talent, energy and continued commitment to lifelong learning that you have so confidently demonstrated today. Well done to everyone!"
One of the highlights of the ceremony was the awarding of certificates to clients from SHAPE for completing Entry Levels in Functional Maths.
Deputy Director of Lifelong Learning Services, Kerry Yon, concluded:
"What a positive occasion and a great opportunity to celebrate the achievements of so many certificate recipients. Congratulations to all learners."
SHG
27 January 2015