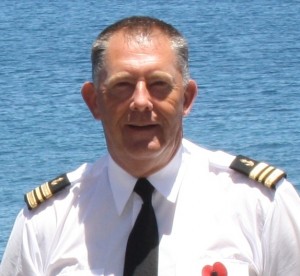 Deputy Harbour Master Steve Kirk (pictured) left St Helena on Friday 9 October 2015, for the Mediterranean Island of Malta, for three weeks of SHG-funded training, arriving back on the Island on 28 November 2015.
Steve undertook four courses, consisting of Port-specific Health & Safety, Company Security, Ship Security, and a basic Power Boat Level 2 course, run by the Royal Yachting Association (RYA).
Steve said:
"We covered anything and everything to do with health & safety within a port environment, and the same with the security officer's course. Every aspect of the security of a ship and the responsibilities of the company security officer was examined."
Steve found the overall training to be 'fantastic', providing him with a much wider outlook on health & safety, especially within a port.
Steve added:
"My main role as Deputy Harbour Master revolves around the health & safety and security of Jamestown Wharf, for both business and leisure users. My role is not only challenging but also very rewarding."
Steve spent a year as a Customs Officer on St Helena before transferring over to Port Control as Assistant Harbour Master, followed by promotion to Deputy Harbour Master.
SHG
8 December 2015