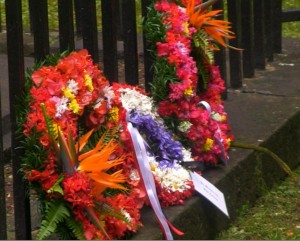 A Commemoration of Napoleon's Death on St Helena took place at Napoleon's Tomb, on Saturday 2 May 2015 at 10am.
Father Dale Bowers led the Commemoration with Prayers, followed by a one-minute silence signalled by the playing of the 'last post', by Dax Richards of the Jamestown Scouts.  Hon. French Consul, Monsieur Michel Dancoisne-Martineau addressed those in attendance:
 "This place has to be appreciated for what it is or maybe I should say for what it is not – this is not a grave, nor a monument, but just a flat stone. 
 "With that said, on every ship thousands of people like us here today continue to walk half a mile to see nothing and this has been going on for two centuries. How can you possibly explain that? The reason is very simple and beautiful when you think about it – simply because this place has ended an amazing story of a man who was the starting point of our modern history.  Like any good story or novel the first and last pages are the ones you will always remember. Napoleon used St Helena to compose the last chapter of his life."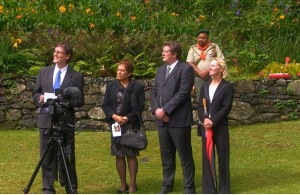 The Commemoration continued with the singing of both the English and French Anthems, followed by the laying of the wreaths on behalf of the French Nation, La Foundation Napoleon and for the Island of St Helena.  The Commemoration ended with members of the public gathering on the pathway overlooking the Tomb, for a musical recital and Blessing.
This year (2015) commemorates 200 years since Napoleon Bonaparte's exile to St Helena.
SHG
4 May 2015