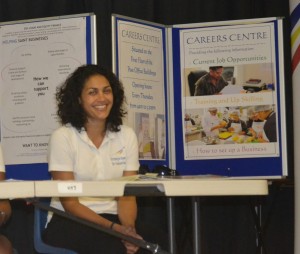 On Wednesday, 28 October 2015, St Helena's annual Careers Fair was held at Prince Andrew School from 10am to 3.30pm and from 6.30 to 8pm.  In a busy hall both the public and private sectors took part, showcasing their activities, making presentations using videos and slideshows – and demonstrating their various business activities.
In her opening remarks, Cynthia Bennett, Work Development Coordinator for SHG, commented:
"There have been many challenges in the run-up to this year's Careers Fair, but despite these obstacles we have all pulled together to make this event possible. Please enjoy the Fair, which I hope will give you inspiration to develop yourself professionally and achieve your full potential."
Director of Education, Shirley Wahler, added:
"I would like to thank the Acting Chief Secretary, Government officials, Councillors, presenters and stallholders for being here today.  This event is not just about the careers of individuals but also about the future of St Helena.  As all these options are presented to you, and as you make a choice that suits you, you are also committing to the Island herself.
"This is a big event, an important event about planning for the future, and shaping the Island as a whole. Enjoy today, but take it seriously, think about what you might want to be ten years from now and how you can move in the right direction."
Speakers covered topics such as Career Progression, Life as a Solicitor, Careers in Management, University Education, and Apprenticeships.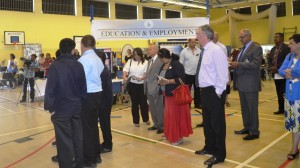 Two pictures are attached to this release.
SHG
30 October 2015