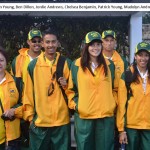 Departing the Island today, Friday 11 July 2014, are members of the St Helena Commonwealth Games Team, representing the Island in the upcoming Glasgow Games.
Taking place between 23 July and 3 August, this international multi-sport event held every four years in different host countries, involves athletes from the entire Commonwealth of Nations.
Madolyn Andrews, Chelsea Benjamin, Jordie Andrews, Lee Yon, Patrick Young and Ben Dillon today begin their long journey to the Games, where they will be joined by remaining  team members Ryan Benjamin, Duane March, Vernon Smeed and Simon Henry.
Accompanying the team to the Games is Chef de Mission Pamela Young, and Nick Stevens who will be responsible for managing the team in Glasgow.
St Helena will be participating in three events, Badminton, Shooting and Swimming. Badminton competitors are Lee, Ryan, Duane and Vernon, Shooters are Madolyn, Cheslea, Jordie, Patrick and Simon, while Ben is competing in Swimming.
Their participation at the Commonwealth Games will be closely followed on St Helena, and a photo of the Team's departure is attached to this release.
SHG
11 July 2014