QUEEN'S BATON CONTINUES ISLAND TOUR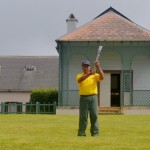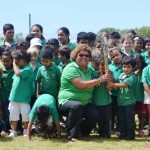 The Commonwealth Queen's Baton continues on its busy schedule of events today as it journeys around the Island.
The Island programme, organised by the National Amateur Sports Association St Helena (NASAS), will today see the Baton making various stops at Ladder Hill and Half Tree Hollow, Levelwood, Sandy Bay, Blue Hill and St Paul's, before touring the streets of Jamestown this afternoon.
Chairman of NASAS, Eric Benjamin said today:
"We are very happy to have received the Queen's Baton on St Helena for a third time and have been much impressed by the enthusiasm of the local people in welcoming the Baton here. The Team accompanying the Baton have also praised the tremendous reception they have received since their arrival.
 "Although the team were exhausted at the end of a long day yesterday, they are enthusiastic and eager to get out again today and explore the rest of the Island with the Baton and to see as much as possible of the St Helena community."
Four photos are attached to this release. Further photos will follow as the Baton makes its way around the Island.
SHG
20 February 2014