Poultry breeding on St Helena involves activities such as the importation of chicken parent stock and the production, brooding and sale of 3-week old chicks.  For many years this service has been available from the Agriculture and Natural Resources Division (ANRD) to local egg producers and smallholders.
ANRD has been seeking private sector interest in taking on the key elements of the existing poultry breeding service – so that their Veterinary and Livestock Section can concentrate on delivery of their core services to livestock producers and the general public.  This partnership will also achieve a reduction in subsidy for the poultry breeding service.
On 18 July 2014, Rodney Yon of White Gate, owner of Roddy's Chicken Farm, entered into a 3 year partnership arrangement with ANRD to manage their current poultry breeding service and establish further egg production housing to increase egg production at Roddy's Farm to meet the needs of the Island.  ANRD will continue the importation of chicken parent stock as and when required to ensure biosecurity requirements are met, and will provide veterinary support and advice to Rodney to enable chick production to continue.
Head of ANRD, Darren Duncan, commented:
"It is pleasing to see a private sector operator prepared to share risk through partnership with SHG and ESH to deliver an important agricultural service to the community and to scale up egg production.  This will increase production of a product for which we have a competitive advantage and which we rely on as a staple food".
Enterprise St Helena (ESH) has been instrumental in supporting Rodney to realise this expansion and both ANRD and ESH have provided funding under the SHG/Private Sector Agriculture Partnership Policy to enable Rodney to combine this new service with a larger egg production operation from the ANRD poultry unit premises near Sunnyside.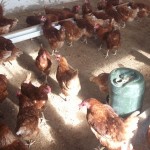 ESH Private Sector Development Manager, Martin George, said:
"This is indeed a proud step in the right direction.  Rodney is one of many individuals that demonstrate enthusiasm in commercial development and is evidence of the success of the public private partnership policy."
Rodney added:
"I am extremely excited to start this new venture.  I have signed a lot of contracts in my life and this contract tops them all." 
From 1 August 2014, all requests for pullets (young hens) should be made to Rodney Yon on telephone 23633.
Two pictures accompany this release.
SHG
29 July 2014