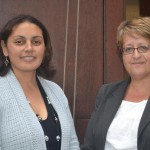 The Public Solicitor's Office (PSO) is pleased to announce the appointment of two new Lay advocates – Miss Julie Thomas of Gordons Post and Mr Geoffrey Dawson of Longwood. They will join the two existing Lay Advocates, Ivy Ellick and Eric Benjamin.  Geoffrey Dawson and Ivy Ellick are currently off-Island and will return in September of this year.
Public Solicitor, Debbie Wahle (pictured with Julie Thomas), said of the appointments:
"This is such an important time for the Island and we must ensure that there is access to justice for each member of the community who needs assistance.  The Public Solicitor's Office is committed to providing an excellent and unique service to the Island, and I hope that all members of the community continue to support the vital work of our Lay Advocates."
Lay Advocates training will begin when both new Lay Advocates start their roles in early September.  Emma Gilsenan, a Criminal Barrister who worked with the PSO last year, will again be joining the Office for 8 weeks during Debbie Wahle's forthcoming leave.  She will be conducting specific and tailored training in all aspects of criminal law, including Police Station representation and Court appearances. This training will continue, delivered by Debbie, on her return from leave in September.
SHG
On behalf of the Public Solicitor for St Helena and Ascension Island
14 July 2014