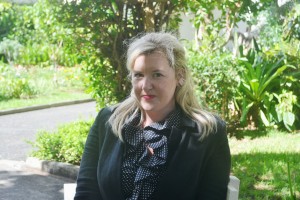 St Helena Island has a new Crown Counsel. Aina Hurley (photo attached) arrived to the Island on Monday 31 March 2014 and is here on a two year contract working in the Attorney General's Chambers at the Castle.
Aina acts as a legal representative for the Government and her role will be to provide legal advice to SHG if a case is taken against it. She will also be prosecuting criminal cases working closely with the Attorney General and Solicitor General, other relevant Directorates and the St Helena Police Service.
Aina said: "I'm really enjoying my job so far and I'm very pleased that I've had the opportunity to come and work on St Helena. All the staff in the Attorney General's Chambers have been very helpful and supportive and I'm looking forward in continuing my work here. I aim to do the job of being Crown Counsel to the very best of my ability. I also aim to do my job in a fair and just manner, and hope to be able to form good working relationships with various stakeholders on St Helena."
Aina has previously worked as a Barrister in Ireland and studied Law at Dublin Trinity College. As part of a student exchange programme, Aina travelled to Atlanta, Georgia in America, spending a year studying at a Law School. She returned to Ireland and trained as a Barrister at the 'Honourable Society of King's Inn' where she studied for a Law degree. Finally, after being trained by experienced Barristers, Aina worked as a self-employed Barrister in Dublin.
SHG
4 April 2014