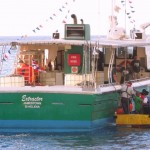 Saturday 19 April 2014 saw St Helena's new offshore fishing vessel reach the Island at around 5:30 pm, to an enthusiastic welcome party of around 200 people. 
Terry Richards, General Manager of the Fisheries Corporation, commented:
"The seven day journey from Hout Bay to St Helena was uneventful except for a period on Wednesday when the vessel was dead in the water, due to the raw seawater pump malfunctioning.  But thanks to the ingenuity of the Skipper, Trevor Thomas, and Engineer, Errol Thomas, the problem was soon rectified and the Extractor resumed her journey after 2 ½ hours.
"The vessel proved to be very responsive and handled all sea conditions encountered with ease.  Hopefully she will continue to do so and be an effective fishing platform when commercial fishing commences."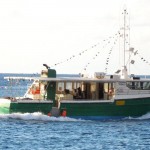 The Extractor, built in 1998, is 22 metres in length.  The welcome party was given a brief demonstration in St James' Bay of her handling ability, followed by clearance by Customs and Immigration officials.
Lead Skipper, Trevor (Otto) Thomas, and crew members Waylon Thomas, Peter Benjamin, Errol Thomas, and Terry Richards, were presented with a St Helena Flag for the MFV Extractor by Cllr Lawson Henry, Chairman of the Economic Development Committee.
Following the presentation, the crew was welcomed by a reception at the St Helena Yacht Club, where Councillor Henry, Terry Richards, Trevor Thomas and Rob Midwinter all commented on the significance of the Extractor's arrival at St Helena and thanked all who supported the crew during their time away.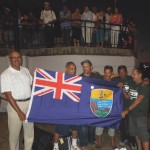 Robert Midwinter, Director of Enterprise St Helena, said:
"The arrival of the 'MFV Extractor' marks a real turning point in the economic development of the Island's fisheries.  Not only does it allow local fishermen to target our seamounts, but it also provides us with a platform on which we can re-build the industry, including opportunities for training, scientific monitoring, and the policing of our waters.  The Extractor will also provide a measure of assurance for those smaller vessels that are capable of going further offshore."    
Four pictures are attached to this release.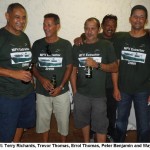 SHG
22 April 2014