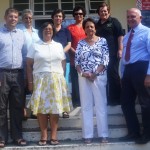 The General Hospital on St Helena has recently received a valuable donation from the St Helena League of Friends, in the form of a Patient Monitor, valued at £8000.
The monitor is much needed at the Hospital and is already in use aiding with Patients' recovery.
At a small thank you ceremony at the Hospital on Thursday, 13 November 2014, Director of Health and Social Services, David Jenkins, said:
"Thank you very much to the St Helena League of Friends for their valuable donation which is already in use here at the Hospital. The monitor is a really important piece of kit and means a huge amount to us in showing the vital signs of a patient at just a glance. Equipment like this is absolutely vital and they're life saving and very much appreciated by the Hospital."
Senior Medical Officer, Dr Atilla, added:
"We've already had a number of patients using the monitor donated by the St Helena League of Friends and this monitor has everything we need. It's a 'Phillips' high quality monitor and if we take care of it, will last us for a very long time."
Chairperson of the St Helena League of Friends, Wendy Essex, concluded: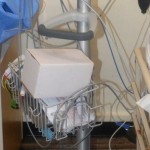 "It is so good that our donation is receiving publicity so that the community can see what we have donated. As Dr Atilla has said it is a very important piece of equipment and I think the community will appreciate where their money has gone."
The St Helena League of Friends was set up in 1993 (the idea brought to the Island by the late Bobby Robertson). The group's mission is to raise funds and provide help to the Hospital and other care centres on the Island through an annual calendar of fundraising events.
Two photos are attached to this release.
SHG
14 November 2014