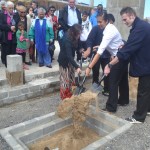 To mark the construction of the Airport Terminal Building, history was made on Saturday 28 June 2014 in a special Commemorative Stone ceremony at the St Helena Airport site.
To over 100 invited guests, and under clear skies, HE Governor Capes unveiled a Commemorative Stone at the front entrance of the Terminal Building, His Lord Bishop Richard Fenwick blessed the building and a Time Capsule was buried by Prince Andrew School students.
The placing of the commemorative stone, a local basalt rock, marks one of many key milestones of Airport construction. In his speech made on the day (full version attached) Governor Capes spoke of the ceremony as a landmark, one that just over 2 ½ years on since the Airport contract signing between St Helena Government and Basil Read, marks the 'massive progress achieved by Basil Read'.
Thanking all who have worked so hard on this historic undertaking, particularly 'the many Saints and the workers from further afield' Governor Capes spoke of the benefits and challenges to overcome when the Airport becomes operational:
"The big challenge for all of us is to see that St Helena is positioned to fully benefit from air access. Sound economic and social arguments underpin the justification for investing in this Airport. Social gains will come relatively easily – having rapid access to specialist medical care, much easier and quicker journeys to and from the Island by family and friends and, for our sporting enthusiasts, making it possible for St Helena's sports teams to participate in international competitions.
"The more complex, less easy task, is preparing St Helena to be able to benefit from new economic opportunities. But we can do it. Air access gives us the opportunity to halt the many decades of economic decline. To give St Helena the means to prosper by developing a vibrant economy, to give St Helena a confident, bright future that will reverse the flow of young Saints leaving the Island. That is the goal. That must be the focus for our energy and resources.
"Deon de Jager and his team have shown that – with the right attitude, with determination, with a 'can do' mind set – so much can be achieved. That is how this airport is being built.
"St Helena must adopt that same approach to building a new economy. It is happening in the fishing sector. Trevor Thomas and the crew of the Extractor, with determination and a 'can do' approach, are showing the way to success.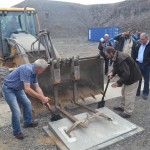 "It is time for change, to adjust to the new realities and to grip new opportunities."
Echoing Governor Capes, Deputy Chief Executive for Economic Development, Susan O'Bey highlighted the 'once in a lifetime opportunity' the Airport will provide to 'ensure that there is a viable St Helena in the years to come for our children and for our children's children'.
Susan said:
"A tourism-based economy will provide opportunities to develop our other key assets; as our economy grows and as more and more people come to the Island, the demand for fresh fruit and vegetables will increase as will the demand for freshly caught fish and St Helena coffee.
"The tourists who will arrive on a weekly basis, will expect to have a variety of activities to participate in and places to visit on the Island, they will also expect to stay in good quality accommodation; be it in a hotel, in a bed and breakfast, in an eco-lodge, or in self-catering. These are the many areas where Saints can take advantage of the business opportunities available for innovation and growth.
"We have young people studying to become doctors, vets, airline pilots, engineers, lawyers and journalists. In 2016 we will open an Airport which will be of a world class standard. Let us also have set out a solid foundation for sustainable economic growth which will set us firmly on the path towards a bright and positive future for us all."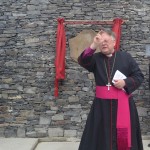 Basil Read Island Director Deon de Jager, Miles Leask from the Project Management Unit and Deputy Airport Director Clare Harris also spoke on project progress and the hard work of all involved.
Clare commented:
"The Airport Project is on time, on budget and to specification. We can see today that a tremendous amount of design and construction work has taken place – achieved through a close working relationship with Basil Read, Halcrow, our Project Management Unit, DfID and SHG. Thank you everyone. It has been challenging at times, but we all have the same end goal: an operational Airport in February 2016."
Tribute was paid to the late Sharon Wainwright for her dedication and commitment to the project and to ensuring that air access brings lasting benefits to the Island.
To ensure the future people of St Helena are aware of this vision and of the hard work of everyone involved in the Airport project, a Time Capsule was buried on the day to give future islanders a snapshot of life on St Helena in 2014. A full list of the contents of the Time Capsule is attached, a list which was placed in the capsule to guide those who will open the capsule in years to come.
The ceremony continued with a presentation from the St Helena Arts and Crafts Association of limited edition site soil souvenirs to Governor Capes, Deon de Jager and Annina van Neel from Basil Read. Guests were also able to purchase these souvenirs while mingling over refreshments and viewing the display of the interior perspective of the Airport Terminal.
Four photos are attached to this release.
Governor Cape's Speech – Commemorative Stone Ceremony – 28 June 2014
Time Capsule Contents – 28 June 2014
SHG
30 June 2014