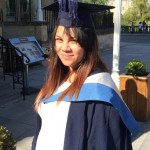 Derrie Yon of the Briars was awarded a BA (Hons) in English Literature and Creative Writing on 17 July 2014, after a 3-year degree course in the UK at Bath Spa University.
During her course, Derrie (pictured) studied numerous areas, including Gothic Origins and Innovations, Gothic Revivals, Modern Gothic, Poetry and Odes, literary criticism and plays such as those of Samuel Beckett and Arthur Miller.  She also studied the works of Shakespeare.
Derrie said:
"The English Literature component of my degree has been one of the hardest but most rewarding challenges of my university experience. My experiences and communication skills have allowed me to gain a place on the Post Graduate Certificate of Education (PGCE) at Bath Spa University, which will enable me to reach my goal of becoming a teacher."
Her Creative Writing course included the study of Fiction, Prose Fiction and Professional Writing – a course designed to teach report writing, third sector writing, speech writing and other types of specialist writing.
Derrie commented:
"I thoroughly enjoyed this course and achieved high marks in most of the modules. I started my own novel, based on the legend of Fernando Lopez for my one of my modules.  It was challenging but I produced work that I was proud off."
Director of Education, Colin Moore, said:
"Derrie is a shining example to the young people of the Island who might aspire to one day become teachers.  St Helena has some remarkably talented young people who will be the future leaders of the Island. Derrie has worked hard and has graduated at a very high level.  On behalf of the Directorate, I would like to congratulate Derrie on her achievements. 
"The Island needs as many as possible of our young people to gain internationally recognised qualifications, so that we can keep pace with an ever changing world economy.  There is so much that St Helena can be proud of when we consider the achievements of our talented young students and graduates." 
Derrie concluded:
"University has allowed me to have the confidence to be in charge of my own future and make my own goals in life. I have grown as a person, met so many people and had so many experiences. It was a life changing journey at university and I will look back on it with pride."
SHG
22 July 2015