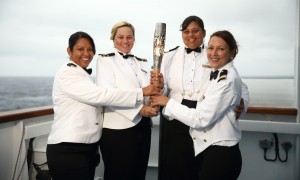 The Commonwealth Queen's Baton is now on its way to St Helena and is due to arrive on the RMS St Helena from Cape Town on Wednesday 19 February 2014 – when it will begin a busy schedule of events.
The Baton was officially welcomed on board the RMS at the Captain's Cocktail Party on Saturday evening (15 February) and continues to be photographed around the vessel with various crew and passenger members.
Accompanying the Baton is Pam Young, Secretary of the National Amateur Sports Association on St Helena (NASAS), Louise Martin CBE, Hon Secretary of the Glasgow Commonwealth Games Association, Queen's Baton Relay Team member Shona Purves, plus three members of a BBC Team and a Queen's Baton Relay Photojournalist.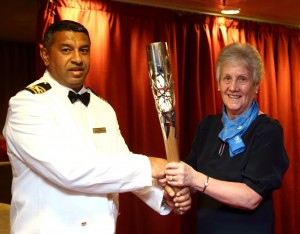 Two photos are attached to this release.
SHG
17 February 2014