A major step forward in safeguarding procedures on St Helena was taken on Tuesday 29 July 2014 with the opening of the Victim Interviewing Suite in Longwood.
The 'Anne' Suite is a newly refurbished centre where victims of sex offences or other abuse can be confidentially interviewed – and represents a significant financial and social commitment from St Helena Government and Councillors to support vulnerable members of our society.
The suite was officially opened by HE Governor Capes in the presence of invited guests. Chief of Police Trevor Botting welcomed all present and stressed the vital importance of safeguarding on St Helena.
Governor Capes said:
'The opening of the Anne Suite is an important milestone in the work of St Helena Government to safeguard people on St Helena – this suite is part of our ongoing work and commitment to protect the vulnerable in society.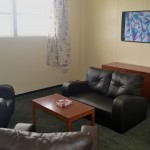 'St Helena doesn't have all the resources it might like to have and we have to prioritise our money extremely carefully, but despite competing pressures the fact that we put our money into protecting the vulnerable speaks volumes for our commitment and a huge thank you to everyone for putting this together.'
Echoing Governor Capes, DC Veronica Judd spoke of how important it is for the Police Service to have within the community a safe neutral environment in which they can make a report. She said:
"We the police recognise that it is a very difficult thing to come forward to us and make a complaint and it takes a huge amount of courage to do so. We would like to assure the vulnerable in our society that we  are here to deal with their reports professionally and want the public to know that every individual will be supported.
  'We take every allegation extremely seriously and every report will be fully investigated and, most importantly, will be treated in the strictest confidence – we urge people to come forward and make their report to us.'
  The suite itself is spacious and equipped with state of the art interviewing and video equipment for people to give and have their statement properly recorded. There is also a place for victims to be medically examined if they need to. The rooms have been designed to provide a comfortable, caring and safe environment for victims of abuse.
The suite supports the excellent progress that has been made in the development of safeguarding procedures on the Island by the Police, Social Services, Education and other partners and volunteers in taking care of those in need.
Artwork providing a calming ambience was contributed by Lindsey McGinnety, Andy Crowe, Dave Higgins and Jill Key. Thanks are extended to all those who have made this suite happen.
The suite is dedicated to 'Anne' for her courage, fortitude and belief in the system to bring to justice a dangerous offender.
SHG
30 July 2014